Haskins, Anthony (2014) West Farm, Barnham, Suffolk. [Client Report] (Unpublished)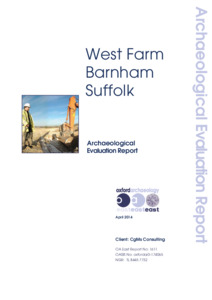 Preview
PDF




XSFWFB14 REPORT_LR.pdf


Available under License Creative Commons Attribution Share Alike.
Download (2MB) | Preview
Abstract
During March 2014 Oxford Archaeology East carried out trenching at West Farm, Barnham. Three areas of potential interest had been previously identified by geophysical survey and the trenching was targeted on these. A large (approximately 40m x 40m) square enclosure with possible entrance on its north-east side was located at the western end of the site (Western Enclosure), and three trenches (1-3) were excavated to investigate it. At the eastern end of the site a small complex small sub-square enclosure (Eastern Enclosure) was investigated by two trenches (5 and 6), whilst a pair of parallel ditches (Possible Trackway) were investigated by a single trench (4). With the exception of Trench 2, all of the trenches were 25m long, Trench 2 was extended to encompass a ditch terminus.
A single enclosure (Western Enclosure) identified in the geophysical survey was targeted by Trenches 1-3. Trench 1 was located on the north-west arm of the enclosure and revealed a single ditch (15), which had a V-shaped profile and a flat base, 2.1m wide and 0.64m deep. No finds were present. Trench 2 was excavated on the north-east arm of the enclosure and revealed a ditch terminus (31) indicating an entrance into the enclosure. The ditch here was 2.4m wide and 1.05m deep and it contained three fills. A small number of lithics (struck flints) were recovered from all three fills along with two cattle bones. Trench 3 was located at the southern corner of the enclosure, here the ditch (5) was 2.3m wide and 0.85m deep with a V shaped profile and flat base. No finds were recovered from its fills.
The geophysical survey showed the Eastern Enclosure to be a sub-square feature under 20m across and comprising discontinuous outer and inner ditches surrounding internal features. Two trenches were located across the enclosure to investigate it. In Trench 5, positioned over the western side of the enclosure, the inner ditch (25) was 0.9m wide and 0.38m deep. It contained a single fill of loose dark greyish-black sand that produced an assemblage of 976 lithics and 36 sherds of Neolithic Pottery. The outer ditch (27) also contained worked flints and pottery in its fills but in much smaller quantities. Trench 6 was positioned over the eastern side of the enclosure and two ditches (9 and 13) were revealed, here the inner ditch (13) was filled with a mid brown silty sand which differed greatly from that found in trench 5, although it too contained large quantities of worked flint, there was no pottery present. The outer ditch (9) was very similar in character to that revealed in Trench 5 and again contained worked flints, although only one tiny sherd of pottery was found. Located within the enclosure was a spread of dark greyish-black sand within a shallow depression beneath which was a small circular pit or post-hole (23) filled with the same dark greyish-black sand, and from which 496 worked flints and 18 sherds of Neolithic pottery were recovered.
A possible trackway was also identified by the geophysics, the single trench investigating the ditches revealed two archaeological features; a tree bole (20) that produced an assemblage of ten struck flints and a shallow, narrow ditch (18) that appears to point directly towards the Eastern Enclosure. No finds were recovered from the ditch that might help to date it but its position in relation to the Eastern Enclosure would seem to be more than coincidental and it too may have formed part of a wider "ritual" landscape.
Actions (login required)