Rees, Gareth (2014) Land off Mill End, Thaxted, Essex. [Client Report] (Unpublished)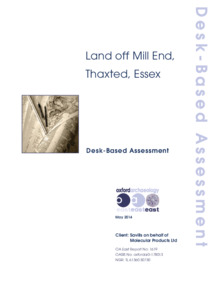 Preview
PDF




Report1619_LR.pdf


Available under License Creative Commons Attribution Share Alike.
Download (6MB) | Preview
Abstract
Oxford Archaeology East has been commissioned by Savills (UK) on behalf of Molecular Products Group plc to conduct a Desk-Based Assessment of the archaeological resource of the former Molecular Products site at Mill End, Thaxted, Essex (TL 61360 30730).
The location of the proposed development area, fronting on to one of the majority routes in to Thaxted during the medieval period, will have made it an attractive location for development during the towns expansion from the 13th-15th centuries. Therefore there is moderate chance of previously unknown medieval building footings and related activty being present on the site.
Three listed buildings currently stand within the proposed development area, two of which date from the 16th century and the other to the 19th century. The Tithe apportionment from 1844 records that the most northerly of these buildings was owned and occupied by the 'Society of Friends' and the plot to the rear of this building was used as a non-conformist burial ground by the time of the 1st edition Ordnance Survey map in 1876. There is high potential that some or all of this cemetery is preserved in the northern corner of the site. The other two listed buildings were occupied by a 'maltster' involved in the brewing industry in 1844 and evidence of this industrial use may be present to the rear of the building. Backyard activty dating to the medieval and post-medieval periods is likely to be present to the rear of the listed buildings dating to the 16th century. This may include pits, ditches and cess pits.
Occasional finds of Middle Bronze Age to Early Iron Age pottery and ditches within 500m of the proposed development area may indicate pastoral use of this landscape in the later prehistoric period. There is a low chance of later prehistoric archaeology being preserved in the proposed development area. A Roman road runs north to south, 40m to the east of the site and there is potential for a Roman roadside settlement to be present at any point along its course.
Actions (login required)