Rees, Gareth (2014) Godmanchester Flood Alleviation Scheme. [Client Report] (Unpublished)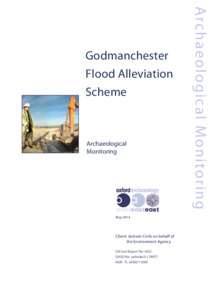 Preview
PDF




Report1622_LR.pdf


Available under License Creative Commons Attribution Share Alike.
Download (4MB) | Preview
Abstract
Between May 2012 and September 2013 Oxford Archaeology East carried out archaeological monitoring of the works for the Godmanchester flood alleviation scheme, to the rear of properties adjacent to the River Great Ouse, along The Avenue, Post Street, The Causeway and West Street (from TL24280 71140 to TL24350 70800).
Godmanchester has well documented Roman remains beginning with a fort built in the mid 1st century AD to control the strategic crossing point of the river, later the town of Durovigutum grew up over the fort due to its nodal location on Ermine Street. A linear project such as this, through the northern suburb of Durovigutum, had high potential to uncover remains relating to Ermine Street, its crossing over the river and roadside setltements.
The works consisted of the construction of 1.5km of flood defences including widening and dredging of the river around Cook's Bridge and two pumping stations. The majority of the monitoring was carried out during the excavation of foundation trenches along the course of the wall which ran predominantly in private gardens adjacent to the river. A total of 79 site monitoring visits were conducted over a 16 month period.
Archaeological remains dating from the early Roman to the post-medieval period were uncovered during the excavation of the footings for the wall and dredging of the river. Much of the foundations did not penetrate deep enough to expose the archaeological level with most being entirely in garden soils, topsoils and modern levelling deposits.
Stratified archaeological remains were uncovered at No.4 The Avenue. A depth of 0.80m of archaeological deposits in two segments of the foundation trench included late 1st century Roman layers overlain by a 2nd century occupation surface with two hearths and a compacted clay and gravel surface. A gravel road or track was also uncovered at this property which appeared to be running perpendicular to the proposed route of Roman Ermine Street. Over 300 sherds of Roman pottery were recovered from excavations at this property along with well preserved environmental remains such as charred cereal grains, charcoal and fish-scales, indicating intensive domestic occupation in this area in the late 1st to early 3rd century AD. Residual sherds of Roman pottery were recovered from nearby gardens and from deposits dredged during the river widening.
The capping on a post-medieval well was uncovered at 23 Post Street and post-medieval brick rubble was uncovered in a buried garden soil at 5-8 Post Street. An in situ garden wall dating to the 18th century was uncovered along the southern boundary of the garden of No.4 The Avenue.
No archaeological remains were uncovered during excavations for the pumping stations located to the east of The Avenue and at Rectory Gardens.
Actions (login required)