Rees, Gareth (2014) A prehistoric settlement and fieldsystem at the Perkins Engines site, Fengate, Peterborough. [Client Report] (Unpublished)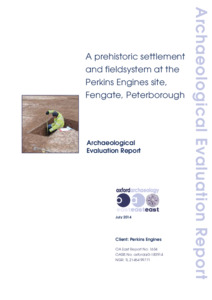 Preview
PDF




Report 1634_LR.pdf


Available under License Creative Commons Attribution Share Alike.
Download (1MB) | Preview
Abstract
Between the 9th and 19th June 2014 Oxford Archaeology East conducted an archaeological evaluation to the east of the Perkins Engines site, Fengate, Peterborough (TL21454 99771), in advance of the proposed sale of the land for development. A total of 36 trenches, measuring 1072m, were excavated over an area of 3ha spread between two plots. Eight trenches were located in the southern plot whilst 28 were excavated in the larger northern plot. Part of the trench layout was targeted over anomalies identified during a geophysical survey of the site whilst others were located at random.
A large amount of modern ground build-up and truncation in the southern area meant that natural and archaeological deposits were sealed by up to 1.90m of overburden. Archaeological deposits were located at the south of the southern plot and across the whole of the northern plot with the density increasing to the south and east. Ditches, post holes and pits were encountered across the whole site. The post holes were located in Trench 36 in the southern area, and in Trench 7, Trench 8 and Trench 13 in the northern area. These groups of post holes and associated pits may represent the locations of post-built timber-framed structures which tend to date to the Bronze Age or Early Iron Age. The ditches which were uncovered, some of which were also identified by the geophysical survey, were broadly aligned north-east to south-west, north-north-west to south-south-east or perpendicular to this, and may have been part of an enclosure or field system. Two of the features uncovered in the northern field, associated with these ditches, appear to be waterholes which, along with a small amount of cattle bone recovered, suggest a pastoral regime in use on this site.
Artefacts recovered from the site included a small assemblage of struck flints, possibly dating to the Neolithic period, a few fragments of flint-tempered pottery and burnt clay from the south-east of the northern field and a fragment of an Alpine jadeitite polished axe dating from the Late Mesolithic or Early Neolithic period. Axes such as this are rare in British archaeological contexts making this a nationally significant find. Given the likely dates for all of the artefacts recovered from the site it is most likely that they represent redeposited material in later features.
An environmental bulk sample from a pit or waterhole in the centre of the northern area recovered over 1.5 litres of processed and charred emmer wheat. If this deposit covers the whole of the base of the pit it could represent the entire harvest for a small pastoral community. Together, these field systems, timber-framed structures and evidence of an agrarian and pastoral economy, are indicative of the site being used from the Neolithic period and becoming the location of a prehistoric settlement and farmstead between the Middle Bronze Age and Early Iron Age.
Item Type:
Client Report
Uncontrolled Keywords:
Peterborough, peterborough, Fengate, fengate, geophysical survey, survey, evaluation, Evaluation, archaeological evaluation, Neolithic, neolithic, Bronze Age, bronze age, Middle Bronze Age, middle bronze age, Late Bronze Age, late bronze age, Early Iron Age, early iron age, Iron Age, iron age, flint, flints, worked flint, worked flints, lithics, lithic, lithic implement, lithic implements, wheat, charred wheat, emmer wheat, charred emmer wheat, CPR, cpr, charred plant remains, polished axe, axe, axe head, Alpine jadeitite polished axe, 1634, report 1634, Report 1634, OAE report 1634
Subjects:
Geographical Areas > English Counties > Cambridgeshire
Period > UK Periods > Bronze Age 2500 - 700 BC
Period > UK Periods > Iron Age 800 BC - 43 AD > Early Iron Age 800 - 400 BC
Period > UK Periods > Iron Age 800 BC - 43 AD
Period > UK Periods > Bronze Age 2500 - 700 BC > Late Bronze Age 1000 - 700 BC
Period > UK Periods > Mesolithic 10,000 - 4,000 BC > Late Mesolithic 7000 - 4000 BC
Period > UK Periods > Bronze Age 2500 - 700 BC > Middle Bronze Age 1600 - 1,000 BC
Period > UK Periods > Neolithic 4000 - 2200 BC
Divisions:
Oxford Archaeology East
Depositing User:

Chris Faine

Date Deposited:
10 Oct 2014 08:41
Last Modified:
24 Feb 2020 10:21
URI:
http://eprints.oxfordarchaeology.com/id/eprint/2095
Actions (login required)