Fletcher, Taleyna (2014) Early Medieval Industry East of the "Sea Bank", Waterlees Road, Wisbech. [Client Report] (Submitted)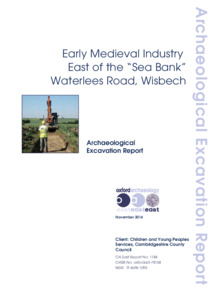 Preview
PDF




WISWAR10 1184 report-LR.pdf


Available under License Creative Commons Attribution Share Alike.
Download (4MB) | Preview
Abstract
In late February 2010, Oxford Archaeology East conducted an archaeological evaluation comprising five trenches in an open area playing field on Waterlees Road, Wisbech. The investigation consisted of five trenches, 200m in total length, within the proposed development area which was to include the construction of a children's adventure playground. Significant remains were encountered which warranted further investigation. This was undertaken almost straight away during March 2010 when two open areas were investigated.
The site is bound on the western side by a bank (NHER No. 2187) which continues along the route of Waterlees Road towards the north. Although not preciselydated, the bank is known locally and on maps as "Roman Bank" or "Sea Bank" and was most likely constructed to act as a sea defence in the late Saxon and medieval periods. Further along Waterlees Road the bank survives to a greater height, almost 2m in places, and it is likely that it originally spanned the area now under Waterlees Road.
Investigation of the Sea Bank revealed the edge of what may be the original ditch, although its full extent was not reached as the ditch is believed to continue beneath Waterlees Road. Pottery recovered supports a construction date of the mid 11th - late 12th century for the first cut of the ditch. Remnants of the original bank were investigated, comprising several layers of silts thought to have been extracted from the associated ditch as well as possibly imported from elsewhere. The ditch was later backfilled incorporating contemporary 12th-14th century pottery from the immediate area.
In a trench running parallel to the road, two pits and a ditch were recorded providing evidence of 11th-12th century activity and at the far eastern end of the site pits and evidence of industrial activity and a possible kiln were recorded, all dating to the 11th to 12th centuries. These two areas of the site were targeted for investigation, revealing two phases of early medieval activity and a later medieval phase concentrated in the excavation area at the eastern side of the site. The archaeology mostly comprised pits which contained evidence of metal-working thought to be taking place either on or close to the edge of the site.
Actions (login required)