Clark, Paul and Bullock, Vicki (2008) General Teaching Block, Dallam School, Milnthorpe, Cumbria- Rapid Desk-based Assessment and Evaluation. Project Report. OA North. (Unpublished)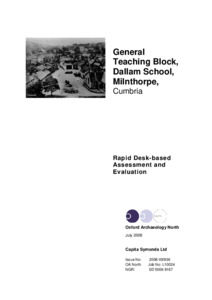 Preview
PDF




10024 Report.pdf


Download (6MB) | Preview
Abstract
Cumbria County Council's Historic Environment Service (CCCHES) was consulted by Capita Symonds Ltd regarding a proposed scheme for the erection of a teaching block at Dallam School, Milnthorpe (centred on NGR SD 5006 8167). The scheme affects an area considered to have a high archaeological potential and so CCCHES advised that the applicant provide information concerning the potential impact of the proposal on archaeological remains. In order to provide this information, a rapid desk-based assessment, visual inspection and an archaeological evaluation of the site was considered necessary. Oxford Archaeology North (OA North) were commissioned to undertake the work in May 2008.
During a previous evaluation at the school in 2005 four human cremations were uncovered, three of which were of late Bronze Age date and grouped together, the fourth was Neolithic and was located away from the other three (ASUD 2005a; ASUD 2005b). An undated pit and ditch were associated with the late Bronze Age cremations. This report draws on the results of the previous evaluation and excavation, of which copies are available at the Cumbria Historic Environment Record (HER) office in Kendal.
Thirteen sites of archaeological significance were identified within the study area following consultation of the HER, but none of these will be affected by the proposed development. The Ordnance Survey First and Second edition maps revealed that the area was undeveloped in the nineteenth century and it would appear the site remained unimproved pasture until construction of the school in 1968.
Four evaluation trenches, Trenches 1-4, were excavated, investigating a total of 75m2 of the proposed development area. The trenches were machine-excavated down to the natural geology, which varied from boulder clay to limestone bedrock. A number of possible features were identified and investigated by manual excavation, although only a possible posthole, 104 in Trench 1, merited recording. This possible undated posthole measured 0.3m in diameter and 0.38m in depth. There was no evidence of significant truncation across the site and it appears that the lack of archaeological remains identified genuinely reflects the area examined.
Actions (login required)