McPhillips, Sean (2008) Jersey Way, Middlewich, Cheshire- Evaluation. Project Report. OA North. (Unpublished)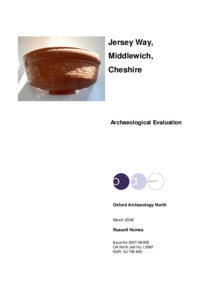 Preview
PDF




Full report.pdf


Download (11MB) | Preview
Abstract
Russell Homes has recently registered an application to develop an area of land off Jersey Way, in Middlewich, Cheshire (centred at SJ 706 665). The application site lies within an area of known archaeological potential. In particular, it was considered likely that the site might contain buried remains of archaeological significance dating to the Roman period, as several archaeological investigations carried out previously in the immediate vicinity have revealed the remains of timber structures, brine pits, a pottery kiln, and field systems dating to the pre-Roman and Roman periods. Following consultation with the Senior Regeneration Officer (Archaeology) with Cheshire County Council, it was recommended that an archaeological evaluation of the site was carried out in order to inform and support the planning application.
In response to a request from Wardell Armstrong, acting on behalf of Russell Homes, Oxford Archaeology North carried out an archaeological evaluation of the application site in January 2008. The work was carried out in accordance with a specification produced by Wardell Armstrong, and approved by the Senior Regeneration Officer (Archaeology) with Cheshire County Council. The evaluation comprised the excavation of 27 trenches, with a combined total length of 520m, which were intended to assess the presence or absence of any buried archaeological remains, and establish their character, extent, date, and significance.
The evaluation confirmed that significant archaeological remains survive in-situ across the application site. Particular concentrations of buried archaeological remains were identified in the south-western and central parts of the site, with more sporadic remains existing to the north. The majority of these archaeological remains were of a Roman date, and partial excavation yielded a large assemblage of Roman pottery. Conversely, trenches excavated across other parts of the site, including the eastern edge and a strip to the south of the field boundary that traverses the site, were devoid of archaeological features of interest.
Actions (login required)