Brennand, Mark (2007) Old Melrose, Scottish Borders- Desk-based Assessment. [Client Report] (Unpublished)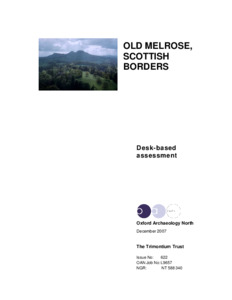 Preview
PDF




Old Melrose DBA.pdf


Download (2MB) | Preview
Abstract
A desk-based assessment was carried out by Oxford Archaeology North on the promontory at Old Melrose, Scottish Borders, on behalf of the Trimontium Trust. The site was well known as the location of a chapel, that was probably founded in the early medieval period, and a medieval monastic holding. The research was designed to synthesise all known historical and archaeological sources for the site, and to propose further research that might be undertaken to improve the historical understanding of the site.
The assessment has revealed remarkably little evidence for prehistoric or Romano-British occupation on the promontory. The earliest records for the site refer to the chapel and monastic site that was probably founded in the seventh century AD, and ultimately passed into the hands of the Cistercian monastery at Melrose during the fourteenth century. The area of the chapel and monastic site is now a Scheduled Monument.
The Trimontium Trust have commissioned several geophysical surveys and its members have undertaken fieldwalking and dowsing over the promontory, although the results of these surveys is not conclusive. Combined with aerial photographic evidence, it does not appear that there are remains of any great antiquity surviving within the area. The one exception is a cropmark apparently depicting a sub-circular or rounded enclosure, to the south of Old Melrose Farm.
Actions (login required)