Bates, Andrew (2006) The Railton Hotel, 2-4 Station Road, Lancaster- Evaluation. Project Report. OA North. (Unpublished)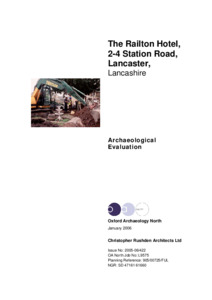 Preview
PDF




completereport.pdf


Download (4MB) | Preview
Abstract
Following a planning application (905/00725/FUL) for the redevelopment of the Railton Hotel, 2-4 Station Road, Lancaster (NGR SD 47164 61660) by Christopher Rushden Architects on behalf of Mr Stirling, proprietor of the Railton Hotel, Lancashire County Archaeology Service (LCAS) issued a brief for a programme of archaeological investigation to be undertaken ahead of any development. Oxford Archaeology North submitted a project design to meet the LCAS brief, and were duly commissioned to undertake the work by Christopher Rushden Architects. The evaluation was completed in August 2005.
Prior to the evaluation, it was considered that there might be potential for prehistoric, Roman and medieval remains within the development area. Accordingly, a rapid assessment of the documentary resources at the Lancashire County Record Office in Preston was undertaken, the summarised and relevant results of which are presented in the Historical Background (Section 1.3).
Two trenches, measuring 10.0m by 2.0m and 6.0m by 2.0m respectively, were excavated within the grounds of the hotel. Both trenches showed that a significant quantity of material had been imported and used as in-fill in the nineteenth century. This was undertaken to raise the ground surface to allow access over the bridge of the then new railway, which opened in 1840. Below these deposits of in-fill, the pre-1840 soil horizon was located overlying natural glacial deposits. This in-filling pre-dates the construction of the hotel in the later nineteenth century.
No archaeologically significant deposits were located during the course of the works, although it is considered that should such deposits be present, they are likely to be well-preserved due to the depth of the nineteenth century stratigraphy. It is, therefore, recommended that, should the development reach a depth which will disturb sediments at c18.5mOD or below, then provision should be made for an archaeological watching brief during the ground works of the new construction.
Actions (login required)