Hughes, Vix (2006) Church Walk, Flookburgh, Cumbria- Evaluation. Project Report. OA North. (Unpublished)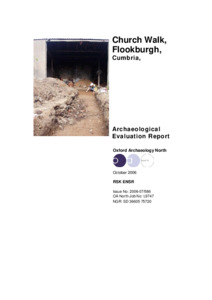 Preview
PDF




L9747report.pdf


Download (2MB) | Preview
Abstract
In September 2006, Oxford Archaeology North (OA North) undertook an archaeological evaluation of land in Flookburgh, Cumbria (centred on SD 36605 75720) The work followed on from a desk-based assessment of the site by RSK ENSR, and was required to inform an application for a proposed residential development. The archaeological potential of the site was identified in a desk-based, which suggested that it had formed the southern end of a burgage plot. From at least 1825, and until sometime after 1957, the site was used an orchard.
The evaluation comprised the excavation of four trenches, which examined a total area of 47m2. The trenches all revealed the same broad stratigraphy with the modern ground surface overlying an old soil horizon, which probably related to the orchard shown on the cartographic sources. This shallow and disturbed horizon overlay the natural subsoil. The single archaeological feature to be identified in the evaluation trenches comprised a twentieth-century soakaway drain, which was exposed in Trench 2. An assemblage of 100 artefacts, dominated by small fragments of pottery, was recovered from the evaluation. These all dated to the late post-medieval and modern periods, and are of little archaeological interest.
The results of the evaluation demonstrated that the proposed development will have a negligible archaeological impact on the site.
Actions (login required)