Taylor, Karl (2006) Thurland Mill, Cantsfield, Lancashire- Building Investigation and Watching Brief. [Client Report] (Unpublished)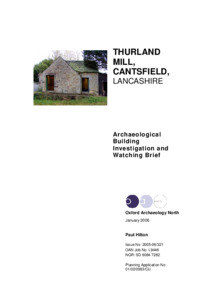 Preview
PDF




complete report.pdf


Download (4MB) | Preview
Abstract
Following a proposal by Mr Paul Hilton to convert the former Thurland Mill for domestic use a programme of archaeological recording was recommended by the Lancashire County Archaeological Service. This was to comprise a rapid examination of documentary sources, a building investigation and a watching brief during the work.
A mill is thought to have existed at the site since the early thirteenth century, although the present building is considerably later. The earliest confirmed references to 'Thurland Mill' only appear in the early eighteenth century; there are records to 'Greeta Mills' in the nineteenth century but it is not clear if this is the same site. Part of the site was also used as a corn-drying kiln in the mid-nineteenth century, and it appears to have entirely gone out of use as a mill by the beginning of the twentieth century, at which time it was partially converted for use as a saw mill and yard for the Thurland Castle estate.
The building investigation revealed that the surviving building is probably relatively late in date and seems to comprise a single phase of construction, with few alterations. Those that were evident seem to relate to the subsequent changes to use as a sawmill and the conversion of neighbouring buildings into cottages, which probably also led to the infilling of the mill leat. The watching brief also confirmed that a number of later alterations had been carried out, including the deviation of the water supply around the building, and the demolition of structures probably associated with the earlier mill.
There was no evidence for a structure on the site prior to the eighteenth or nineteenth century, although the extensive alterations that have evidently taken place may have disguised any remains of this. Remains relating to the earlier corn-drying kiln, and possible parts of machinery associated with the previous mill were recovered, however.
Actions (login required)