Howard-Davies, Chris (2007) 18-24 High Street, Gateshead, Tyne and Wear- Post-Excavation Assessment. [Client Report] (Unpublished)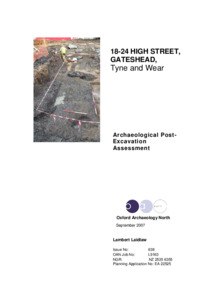 Preview
PDF




completereport.pdf


Download (6MB) | Preview
Abstract
In January 2003, Oxford Archaeology North undertook excavations at 18-24 High Street, Gateshead (NZ 2535 6355), on behalf of Lambert Laidlaw. The site was located adjacent to an area excavated at Bottle Bank by Oxford Archaeology North in 2000, which revealed extensive and well-preserved archaeological deposits and features dating from the Roman to the post-medieval periods (Howard-Davis forthcoming).
Similarly, during the 2003 excavations, well-preserved deposits and features of archaeological significance were recorded, dating from the Roman period to the present day. Finds from the site principally comprised an assemblage of ceramics spanning the entire period of occupation of the site.
This assessment has examined the results of the excavation, and evaluated its potential for future analysis with regard to the research aims defined in the excavation project design. The process has been designed to correspond to the objectives laid out in the guidance document Management of Archaeological Projects, second edition (1991a; MAP2). Revised research objectives are presented, which are relevant to a programme of further analysis, synthesis, and interpretation of the evidence, with a view to eventual publication. An updated research design has been compiled, and an appropriate programme of analysis outlined.
The assemblage from the site reflects and complements that recovered from the excavations at Bottle Bank, which remains the largest and widest-ranging body of archaeological material to be recovered by excavation from Gateshead to date, and is thus of importance to an understanding of the development and growth of the town, together with its economic and social identity. It is suggested that the results from 18-24 High Street are combined with those from Bottle Bank, and published as an integrated article in the journal of the Society of Antiquities of Newcastle upon Tyne, Archaeologia Aeliana.
Actions (login required)