Tonks, David (2007) Borwick Hall Youth Centre, Borwick Road, Borwick, Lancashire- Evaluation and Watching Brief. [Client Report] (Unpublished)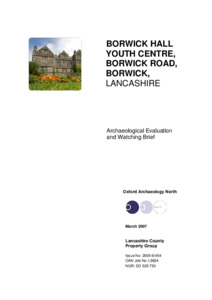 Preview
PDF




Complete Report.pdf


Download (5MB) | Preview
Abstract
Following proposals by Lancaster County Property Group (LCPG) to extend the present buildings at Borwick Hall Youth Centre, Borwick Road, Borwick, Lancashire (SD 526 730), Lancashire County Archaeology Service (LCAS) requested that a programme of archaeological investigation and recording be undertaken in association with proposed development, in recognition of the historic significance of the wider site. The programme was to comprise a watching brief during the excavation of service trenches external to the new building, and the excavation of three test pits around the new building in order to evaluate the potential of the area for buried archaeological remains. Subsequent to submitting a project design for such a scheme of works, Oxford Archaeology North was commissioned by LCPG to undertake the full programme in November 2005.
During the fieldwork, three test pits measuring 2m square and upto 1.4m deep were excavated, whilst the groundworks associated with the insertion of three 0.4m wide service trenches upto 16m long and 0.7m deep were constructed.
Despite the fact that the settlement of Borwick and the original elements of the Hall itself are likely to date to the medieval period, no significant archaeological features were identified during the course of the works that would enhance our understanding of their historical development. Although the evaluation was undertaken after the extension had been built, this latest phase of modern activity would appear unlikely to have affected the stratigraphy of the area, which instead would appear to have been previously truncated, most probably when the recently-extended modern structure was first built.
Actions (login required)