Tonks, David (2006) Errington Arms Inn, Stagshaw, Corbridge, Northumberland- Watching Brief. [Client Report] (Unpublished)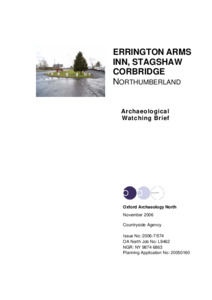 Preview
PDF




complete report.pdf


Download (4MB) | Preview
Abstract
The Countryside Agency commissioned Oxford Archaeology North (OA North) to
design and install seven information panels along the length of the Hadrian's Wall
National Trail Path, from Solway to Wallsend. One of the panels is to be situated
alongside the Errington Arms Inn, Stagshaw, Corbridge, Northumberland (NGR NY
9874 6863). The site lies within the scheduled area of National Monument No 26047,
between the course of the Vallum and Hadrian's Wall.
Planning consent was provided by Tynedale Council (ref: 20050160), with a
condition for a permanent archaeological presence required during any groundworks.
Due to the scheduled status, the work also required Scheduled Monument Consent
which was granted by the DCMS and monitored by English Heritage. Unlike the other
six installation sites where the panel would be mounted on a lectern, English Heritage
required the panel to be mounted on a coarse stone plinth, with limestone mortar,
considered to be more sympathetic to its rural location. The watching brief was
carried out during the construction and associated groundworks of the plinth on 21st
August 2006.
A single shallow trench was manually excavated entirely through topsoil and no
archaeological deposits were encountered nor disturbed during the work. No further
recommendations were made for archaeological intervention.
Actions (login required)