Clark, Paul (2005) Hackthorpe Wastewater Treatment Improvements, Cumbria- Desk-based Assessment and Rapid Walkover Survey. Project Report. OA North. (Unpublished)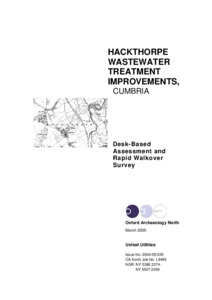 Preview
PDF




Complete Reporta.pdf


Download (2MB) | Preview
Abstract
United Utilities are proposing the construction of a new Wastewater Treatment Works and outfall pipe at Hackthorpe, Cumbria (NY 5380 2374 to NY 5507 2399). Cumbria County Council Archaeology Service issued a brief for a programme of archaeological works to be undertaken, prior to the development.
In the first instance, these works comprised a desk-based assessment and rapid walkover survey of the route of the proposed pipeline. The desk-based assessment comprised a search of both published and unpublished records held by the Cumbria Sites and Monuments Record (SMR) in Kendal, the Cumbria County Record Office in Kendal, and the archives and library held at OA North. The rapid walkover survey inspected a one-hundred metre corridor along either side of the pipeline.
The desk-based assessment identified 19 sites, 18 (Sites 1-18) of which were on the SMR, with the walkover survey identifying a further six sites (Sites 20-25). The sites identified included a Neolithic long barrow (Site 03); a Bronze Age burial cairn (Site 02); an Iron Age/Romano-British settlement (Site 01); a Roman coin hoard and associated metalwork (Sites 15, 16 and 17); medieval ridge and furrow (Site 07); Hackthorpe Village Hazard Area (Site 09) and field system (Site 19); a post-medieval village (Lowther - Site 05); quarries (Sites 12 and 13); a milestone (Site 18); a terracing wall (Site 20); a hut (Site 21); field boundaries (Sites 22 and 23); a gatepost (Site 24); an undated farmstead (Site 04); ridge and furrow (Sites 06); cropmarks (Sites 08, 10 and 14); a field system (Site 11); and an undated hollow (Site 25).
Actions (login required)