Hughes, Vix (2005) Area of Phase 1 Extraction, Peel Place Quarry, Holmrook, Cumbria- Evaluation. [Client Report] (Unpublished)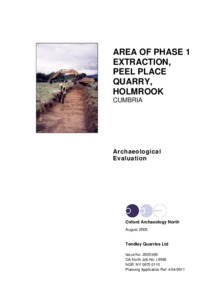 Preview
PDF




9565_CompleteReport.pdf


Download (1MB) | Preview
Abstract
Tendley Quarries have been given planning consent to undertake the next phase of extraction works on the western extension at Peel Place Quarry, Holmrook, Cumbria (centred NGR NY 067 010), following the submission of an Environmental Impact Assessment (Planning Application Reference 4/04/9011). Previous archaeological investigations have shown that, whilst the soils are not responsive to a magnetometer survey and that there has been little of archaeological significance identified in the limited excavation to date, there is still archaeological potential across the site. As a result, Cumbria County Council's Historic Environment Service (CCCHES) advised the mineral planning service that a condition should be imposed on the planning consent to undertake an archaeological evaluation prior to the commencement of any groundworks. Consequently, Oxford Archaeology North (OA North) were commissioned to undertake the required archaeological work in July 2005.
Ten evaluation trenches were excavated in a random pattern within the specified area of work. The trenches were generally 25-30m long and 1.75m – 3.3m wide and the maximum excavated depth was 0.7m.
The trenches were mechanically excavated to the top of the natural geology, which consisted of a mixture of sands and gravels. No archaeological features were uncovered in any of the trenches. The only feature was an iron pipe that ran through the southern-most trench, Trench 9. The finds included 29 artefacts retrieved from the topsoil. The assemblage comprised fragments of pottery, glass, flint, and metal, with at least one sherd found from each of the trenches.
The presence of two potential waste flint chunks suggests small-scale knapping had been taking place in the area, but it is impossible to date this activity closely. The fragments of pottery, glass, and metal recovered from the topsoil were all post-medieval in date, and the fragment size was small. It appeared to be entirely domestic, and demonstrates post-medieval activity in the area. The finds are likely to be a result of manuring practice across the site.
The results of this phase of evaluation trenching appears to demonstrate the low potential for archaeological remains, despite finds from the immediate vicinity suggesting a potential for prehistoric activity in the region. It is considered, therefore, that the groundworks for the extraction will have no impact on any significant archaeological remains, and no further archaeological investigation is recommended prior to development of this area of the site.
Actions (login required)