Zant, John and Eloy, Pascal (2010) 46 St Michael's Road, Kirkham, Lancashire- Watching Brief. Project Report. OA North. (Unpublished)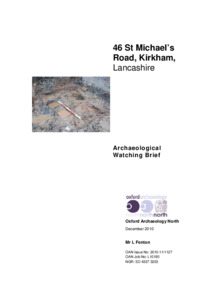 Preview
PDF




L10180_StMichael'sRoadFullReport.pdf


Download (3MB) | Preview
Abstract
In August 2009, part of a substantial Romano-British masonry building, furnished with a heating system, was discovered during the course of an archaeological watching brief undertaken by Oxford Archaeology North (OA North) at 46 St Michael's Road, Kirkham, Lancashire (SD 4327 3203). Wooden structural remains, in the form of posts and stakes preserved by waterlogging, were also observed, together with part of a possible ditch and other deposits, though the precise relationship of most of these remains to the masonry structure could not be determined. The site lay approximately 70m north-east of the north-east angle of the known Roman fort at Kirkham, close to the south bank of the Carr Brook, in an area occupied today by residential housing.
Previously, several finds of Romano-British artefacts, including pottery, metalwork and leather, had been made in the general area, and traces of Roman timber buildings had been found on Myrtle Drive, immediately south of St Michael's Road. These discoveries were suggestive of the existence of an extramural settlement outside the presumed east gate of the fort.
The precise significance of the remains recorded during the watching brief could not be established. However, the masonry structure, which was constructed of red sandstone and brick and contained (or comprised) an apsidal or circular heated room, was clearly a building of some pretension and significance. It was, in all probability, the fort bath-house, built and occupied at the same time as the fort itself, c AD 120-50/60, though the possibility that it was part of another important structure, such as a mansio, cannot be ruled out. With the exception of a single, unstratified sherd of Black burnished ware Fabric 1, dating to after c AD 120, no datable Roman artefacts were recovered from the site.
Actions (login required)