Blythe, Kathryn and Gardner, Will (2009) Helvellyn Gill, Lake District National Park, Cumbria- Rapid Desk-based Research and Walkover Survey. Project Report. OA North. (Unpublished)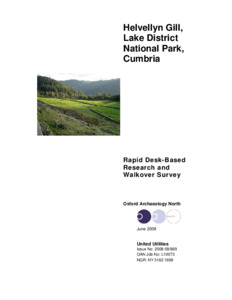 Preview
PDF




L10073fullreportflattened.pdf


Download (1MB) | Preview
Abstract
Following proposals by United Utilities (UU) for the construction of a flow transfer structure, access improvements and a control building at Helvellyn Gill in Cumbria (NGR NY 3162 1698), the Lake District National Park Authority (LDNPA) recommended that rapid archaeological desk-based research and a walkover survey of the proposed development be undertaken. Oxford Archaeology North (OA North) was subsequently commissioned by United Utilities to undertake this work.
The study area is located in the Thirlmere valley, one of the main natural communication routes extending north from the centre of the Lake District, which would have been an important access route in both the prehistoric and subsequent periods. The Dunmail Raise cairn to the south of Thirlmere is a possible commemorative marker perhaps for a dark age battle or a Cumbrian King. It is located at the watershed between two major valleys and is on the line of a natural boundary. Since at least the twelfth century it has marked the border between Cumberland and Westmorland, and at one time may have marked the border between England and Scotland, or Cumberland and Strathclyde.
A survey carried out by Lancaster University Archaeological Unit (LUAU) in 1997 of North West Water's (now UU) Thirlmere estate, which included the current study area, concluded that the earliest medieval exploitation of the area was of a sporadic and potentially transhumant nature. A medieval enclosure located at Helvellyn Gill (Site 11) is, therefore, a rare example of a medieval field system in the Thirlmere area. The development of settled communities in Thirlmere through the medieval and post-medieval periods appears to be less intensive than in other Lakeland valleys.
Actions (login required)