Murray, Elizabeth (2008) Bankhead Farm, Dalswinton, Dumfries, Dumfries and Galloway- Watching Brief. Project Report. OA North. (Unpublished)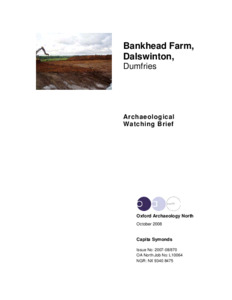 Preview
PDF




L10064 wb report smaller.pdf


Download (10MB) | Preview
Abstract
Planning permission has been granted for the erection of an agricultural building at Bankhead Farm, Dalswinton, Dumfries (NGR NX 9340 8475), with a condition to undertake all groundworks for the construction of the building under permanent archaeological presence. The site lies within an area of high archaeological potential with two Roman forts positioned immediately to the north and west of the farm (SM 2560), and a Roman camp approximately 300m to the south of the farm (SM 4343). A Roman road may also run along the north-eastern edge of the development site. Furthermore, to the immediate north-east of the site is an undated enclosure, seen as a cropmark on aerial photographs, and to the south-east is a second cropmark indicating the site of a ploughed Bronze Age barrow.
Oxford Archaeology North (OA North) was commissioned by Capita Symonds, on behalf of their client, to undertake a watching brief, which was carried out over three days from 7th to 11th August 2008. The works involved a complete topsoil strip over the site of the proposed building, followed by the excavation of postholes for structural purposes.
A possible field boundary, 1007, was recorded, but there was no dating evidence retrieved. The area was also heavily disturbed by more recent farming activity, including the installation of modern services, together with carcass pits and silage dumps. A rubble trackway was also observed across the southern end of the site, and two heavy machine wheel ruts were noted. There were no other archaeological features, structures or deposits of significance seen during the watching brief, and no finds were recovered. The groundworks did not impact upon any features of archaeological value and, therefore, no further archaeological work is recommended.
Actions (login required)