Ridings, Christopher (2008) Barn At Beetham Hall, Beetham, Milnthorpe, Cumbria- Building Investigation and Watching Brief. [Client Report] (Unpublished)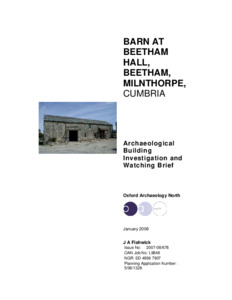 Preview
PDF




beetham hall barn_complete_rep_smaller.pdf


Download (12MB) | Preview
Abstract
Mr J A Fishwick made a planning application (Reference 5/06/1326) to South Lakeland District Council to convert the Grade II listed east barn at Beetham Hall Farm, Beetham, Milnthorpe, Cumbria (SD 4996 7907) to business premises for his firm of undertakers. The barn is recorded in the County Historic Environment Record (reference 22713), whilst Beetham Hall itself is a fortified manor-house dating from the thirteenth century (Historic Environment record no. 2518). In addition, part of the site is legally protected as a Scheduled Monument (SM no CU 327), including underneath the barn proposed for conversion.
As part of the planning procedure, Cumbria County Council Historic Environment Services (CCCHES) recommended a building investigation of English Heritage (2006) Level III standard for the barn. This was to include a rapid desk-based assessment, which would provide an historical background and detail any changes in the development of the buildings. In addition, an extensive site investigation was to be undertaken, comprising written descriptions, an extensive photographic record, and site drawings of the floor plans and elevations. A watching brief on groundworks to be undertaken during the development was also recommended. The results of these are included within this report.
Following these recommendations, Mr Fishwick requested that Oxford Archaeology North (OA North) undertake the building investigation and Watching Brief, which were completed respectively during April and August 2007.
The building investigation concluded that the barn dates to the late eighteenth or early nineteenth century and was part of an established farmstead by the mid nineteenth century. In its original form, it was undoubtedly used as a threshing barn, hayloft and animal shelter, but a recorded change of occupancy by the mid to late nineteenth century appears to have affected both the building's function and form. The period witnessed improvements in threshing technology and transport, and a shift from arable to livestock and dairy farming, and this clearly resulted in the building of the east extension and the insertion of more stalls within the shed. From the late nineteenth and early twentieth century, the building appears to have been altered very little, with the exception of repairs and maintenance. Certainly, the slate roof to the rear of the building (east) was replaced with corrugated iron during the mid to late twentieth century, whilst a modern Dutch barn was erected in the late twentieth century.
Actions (login required)