Ridings, Christopher and Eloy, Pascal (2008) Miller Bridge, Kendal, Cumbria- Watching Brief. Project Report. OA North. (Unpublished)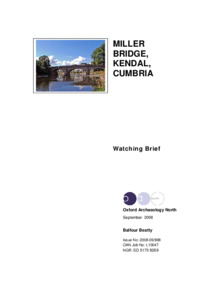 Preview
PDF




L10047_CompleteRep.pdf


Download (1MB) | Preview
Abstract
Following a proposal by Balfour Beatty to undertake exploratory roadworks for the laying of a service pipe across Miller Bridge, Kendal, Cumbria (SD51759269) (Fig 1), Cumbria County Council Historic Environment Services (CCCHES) recommended an archaeological presence should be maintained for the duration of the project. The bridge is a Scheduled Monument (443) and is also included within the County Sites and Monuments Record for Cumbria (5454), and dates to the early nineteenth century. Subsequently, CCCHES recommended that rapid historical research be undertaken in advance of the watching brief element of the project.
The planning, financing, and personnel involved in the construction of the bridge are all well documented, and this research revealed that the predecessors of the present bridge were numerous, due to their timber construction and the periodic flooding of the River Kent. From at least the early seventeenth century, successive timber bridges were built, until a stone replacement was constructed in the mid eighteenth century. However, the burgeoning industrialisation of Kendal, including the building of paper and gunpowder operations, several woollen mills, and the construction of the new Lancaster and Kendal Canal meant that a new replacement was required by the early eighteenth century.
Subsequently, Kendal Corporation invited Francis Webster, the local architect and alderman of Kendal, to submit plans and find contractors capable of building the bridge within a narrow time-frame. In local stonemasons, Edward Gibson and James Harrison, Webster found such men, and within only seven months of being proposed, the Kent Bridge was designed, built and opened to traffic. It was only later that the bridge became referred to as Mill Bridge and later still, the now familiar Miller Bridge.
The watching brief on Miller Bridge was maintained during the night of 9th July 2008. Initially, a test pit was excavated in the centre of the pavement on the eastern side of the bridge, which revealed three existing services and part of the stone construction of the bridge. In light of the presence of these services, further interventions were made at the northern and southern extents of the east side of the bridge, in order to ascertain the presence, or lack thereof, of these pipes. In each case, these existing services meant that the stone construction was damaged or partially-damaged, thus revealing the underlying large, roughly-hewn slabs of limestone with no identifiable bonding material. Subsequently, it was agreed that the service trench will be repositioned on the road surface itself, and this is likely to take place during proposed Council works for extending the width of the pavement on the bridge.
Actions (login required)