Hughes, Vix and Zant, John (2008) Derwent Lodge Cottage and Sibby Brows Field, Papcastle, Cumbria- Archaeological Report. Project Report. OA North. (Unpublished)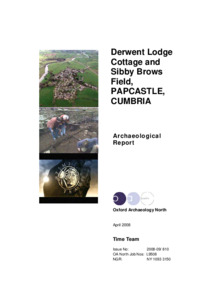 Preview
PDF




final report smaller.pdf


Download (2MB) | Preview
Abstract
In March 1998, a programme of archaeological work was carried out over a period of four days by Channel 4's Time Team, in conjunction with the Carlisle Archaeological
Unit, at Papcastle, near Cockermouth, Cumbria (NY 1093 3150). The work consisted of geophysical surveying (undertaken by GSB Prospection) and the excavation of four
trenches, two in the gardens of Derwent Lodge Cottage (Trenches A and B) and two in Sibby Brows Field, to the south-west (Trenches C and D). All four trenches were
situated south of the Roman fort of Derventio, which lies on the north side of the village. Trenches A and B were placed in an area of known extramural activity; the
field in which Trenches C and D were situated had not previously produced evidence for Roman occupation, although antiquarian observations suggested that the field may
have been the site of the fort's bath-house.
Trenches A and B revealed a complex sequence of Roman activity, with at least five identifiable phases of occupation. The earliest, probably dated to the first half of the second century, consisted of soil deposits, whilst the second comprised a possible floor overlain by soil, perhaps of mid-late second-century date. The third phase
comprised ephemeral traces of a possible timber structure dating to the first half of the third century, which was succeeded, perhaps in the third century, by what was
probably a monumental stone building, represented in the archaeological record by a massive clay and cobble foundation, 1.8m wide and 1.2m deep. The final phase of
Roman occupation comprised two timber structures, probably of the strip-building type, erected on footings of large sandstone blocks set on shallow layers of cobbles
and broken sandstone. The associated pottery indicates a fourth-century date, and includes at least one sherd of c AD 350-400.
Actions (login required)