Blythe, Kathryn (2011) Brownhill School, Rochdale, Greater Manchester- Desk-based Assesment. Project Report. OA North. (Unpublished)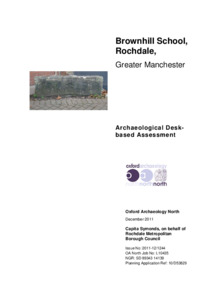 Preview
PDF




L10435_full rep reduced.pdf


Download (7MB) | Preview
Abstract
Planning permission has been granted by Rochdale Metropolitan Borough Council for the demolition of Brownhill School, Rochdale (NGR SD 89343 14139) and the construction of a replacement school on the site (Planning ref: 10/D53829). One of the planning conditions was to undertake a programme of archaeological work prior to development. The Greater Manchester Archaeological Unit (GMAU) were consulted and a brief for the programme of work was issued. Consequently, Capita Symonds commissioned Oxford Archaeology North (OA North) to undertake a desk-based assessment of the site to assess the potential impact of the proposed redevelopment on the archaeological resource. This was carried out by in November and December 2011.
The study area for the desk-based assessment comprises an area 250m in radius centred on the proposed redevelopment. The desk-based assessment comprised a search of both published and unpublished records held by the Greater Manchester Historic Environment Record (HER), the local studies centre at Touchstones, Rochdale, and the archives and library held at OA North. In addition to this, a walkover survey was carried out within the boundary of the proposed redevelopment, in order to relate the landscape and surroundings to the results of the desk-based assessment, and identify any additional features that would not be procured solely from documentary sources.
In total, 12 sites were identified within the study area, six of which are located within the proposed redevelopment area (Sites 04 and 08-12). The earliest archaeological evidence within the study area is represented by a medieval settlement to the north of the proposed development area (Site 05). Brownhill house (Site 04), situated in the northern part of the proposed development area, dates to at least 1620, from which time the site was occupied by the house and its grounds. In the early 1920s the house was sold to the Rochdale Corporation, who established an open-air school on the site, utilising the house for administration, kitchens and dining, whilst erecting new purpose-built buildings in the grounds to the south of the house. Brownhill house was demolished in the 1960s, during the construction of the current school buildings. The site of the house was not redeveloped, however, but is currently occupied by a car park.
Actions (login required)