McPhillips, Sean (2010) Kennedy's Mill, Pollard Street, Ancoats, Manchester- Archaeological Investigation. [Client Report] (Unpublished)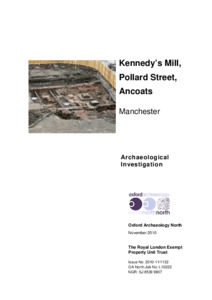 Preview
PDF




Report smaller.pdf


Download (9MB) | Preview
Abstract
The Royal London Exempt Property Unit Trust has proposed to redevelop land on the corner of Pollard Street and Great Ancoats Street in the Ancoats area of Manchester (centred on SJ 8539 9807). In consideration of the development proposals, Manchester City Council attached a condition to planning consent that required an appropriate scheme of archaeological investigation to be carried out in advance of development. In the first instance, an archaeological desk-based assessment of the site was undertaken, which concluded that the site merited physical investigation prior to redevelopment (UMAU 2006). In particular, the footprint of a large cotton mill that had been established on the site in 1803-04 was considered to be of especial archaeological interest.
In the light of the conclusions drawn by the desk-based assessment, the County Archaeologist for Greater Manchester recommended that a programme of archaeological evaluation was carried out. It was recommended that this comprised the excavation of seven trenches, with a total combined length of some 135m, intended to establish the presence or absence of buried remains and assess their significance. The trenches were targeted on elements of the mill's former steam-power plant, an infilled canal basin immediately to the rear of the mill, and other buildings that formed part of the early mill complex. In March 2010, Oxford Archaeology North (OA North) was commissioned to carry out this scheme of work.
During the evaluation significant archaeological deposits were located across the site. As a result of theses findings, two areas of the site were extended forming a single area of excavation, centred within the footprint of the proposed development. This phase of work followed immediately on from the evaluation, and was undertaken in April 2010.
Three clear phases in the development of the site was identified. The earliest phase represented the early development of the site as a cotton mill, and the expansion of the building subsequently to incorporate at lest two steam engines. The excavation allowed elements of this steam-power plant to be exposed and recorded. The surviving remains included a series of foundation beds for the steam engines, flues, and internal floors. However, the buried remains exposed during the excavation were dominated by structures that dated to the later nineteenth century, and represented the remodelling of the cotton mill by a railway company for use as a grain warehouse. The final phase of development dated to the twentieth century, when the site was used as a goods warehouse.
Actions (login required)