Huckerby, Elizabeth (2010) Heronbridge, Chester, Cheshire- Environmental Analysis. Project Report. OA North. (Unpublished)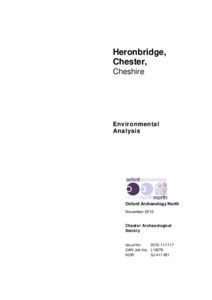 Preview
PDF




L10076_HeronbridgeFullReport.pdf


Download (629kB) | Preview
Abstract
An ongoing programme of archaeological investigation is being undertaken at the multi-period Scheduled Monument (CH 25) at Heronbridge (SJ 411 651), by the River Dee, Chester, by the Chester Archaeological Society under the direction of David Mason. Following an environmental assessment in 2005, which established that a section of the defensive ditch of the earthwork enclosure had been converted into an ad hoc retting tank, Oxford Archaeology North (OA North) was commissioned by Chester Archaeological Society in September 2008 to undertake a programme of environmental analysis of 84 pieces of wood and four bulk samples, and the assessment of the pollen from a series of four overlapping monolith samples from the fills of what is considered to be the defensive ditch of a curvilinear enclosure that overlies part of the Roman settlement. Plant remains were also to be selected that were suitable for radiocarbon dating.
The 84 pieces of wood were identified, and the sizes and ages recorded. The data were used to establish the age frequency, frequency of cut ends, and the size frequency of the various taxa. It was concluded that there was no evidence for woodland management in this material.
The four bulk samples contained abundant well-preserved waterlogged plant remains, including large amounts of herbaceous plant stems, flax seeds and capsules. This suggested that flax was being used to rett plant fibres. They also contained seeds from plants of cultivated, open or waste ground, and amongst these there are plants that are more usually associated with arable cultivation, whilst others are more likely to have been found growing on open or waste ground or beside tracks. The upper fill also contained some charred plant remains, including wheat grains.
The pollen assessment suggests that the landscape was largely cleared, though perhaps contained some secondary woodland. The landscape was probably a mosaic of cultivated, open or waste ground, grassland and woodland. It also suggests that hemp was not being retted with the flax in the ditch.
Flax seeds were selected from two fills of the defensive ditch (114 and 118) in 2004 and were submitted to Dr Gordon Cook at the Scottish Universities Environmental Research Centre, East Kilbride, for AMS radiocarbon dating. The results of the AMS dating gave an averaged mean date of cal AD 680-890 (1238±28BP), suggesting that the fills were accumulating in the early medieval period, and that the ditch had a secondary use for retting plant fibres.
The results of the analysis of the wood and plant remains, and of the pollen assessment of the fills of the defensive ditch of the curvilinear enclosure at Heronbridge make a significant contribution to our understanding of the local environment, the secondary usage of the defensive ditch, and the way in which local woodland was being used.
Actions (login required)