Gregory, Richard (2010) Old Millfield Lane, West-East Link Main Pipeline, Merseyside- Post-Excavation Assessment. Project Report. OA North. (Unpublished)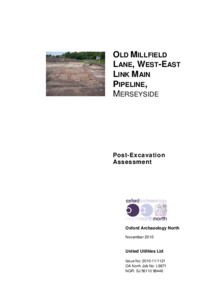 Preview
PDF




L9871_OldMillfield_FullReport.pdf


Download (6MB) | Preview
Abstract
Between June and September 2009, Oxford Archaeology North (OA North) completed an archaeological excavation adjacent to Old Millfield Lane, Merseyside (SJ 56110 98446). The work was commissioned by United Utilities Ltd as part of a wider scheme of archaeological investigation connected with the construction of the West-East Link Main pipeline that runs from Prescot, Merseyside, to Woodgate Hill, near Bury. The excavation was initiated following the discovery of significant below-ground remains within the pipeline easement, during an archaeological watching brief, and the work was undertaken in response to recommendations made by the Archaeological Officer, Merseyside Archaeological Service.
The excavation identified significant archaeological remains, dating from the prehistoric through to modern periods, though the majority of remains were post-medieval in date, comprising a series of pits, boundary/drainage ditches, postholes, drains, the remains of buildings, and a moderate-sized assemblage of post-medieval artefacts. Moreover, these remains included a small building, the complete ground plan of which was uncovered during the excavation, that may have functioned as a small dwelling or vernacular workshop, possibly engaged in smithing. Taken together, these remains allow the investigation of a post-medieval rural site in Merseyside.
The subsequent post-excavation assessment, which is presented in this report, examined the results of the excavation, and assessed the potential for further analysis of each category of data with regard to the project's research aims. The results obtained from the assessment indicate that there is potential for further analysis of particular classes of artefactual material and also scope for further documentary research and environmental analysis. The assessment therefore includes an updated project design and details for an appropriate programme of analysis, cataloguing, and reporting. It is recommended that, after analysis, the results are collated for publication in either an appropriate academic journal, such as Post-Medieval Archaeology, or are incorporated into a proposed OA North monograph detailing the development of rural settlement in the historic county of Lancashire.
Actions (login required)