Gregory, Richard (2010) Sharlston Colliery Reclamation Site, New Sharlston, West Yorkshire- Post-Excavation Assessment. [Client Report] (Unpublished)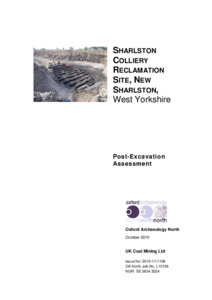 Preview
PDF




L10136_SharlstonFullRepPX.2.pdf


Download (4MB) | Preview
Abstract
Oxford Archaeology North was commissioned by UK Coal Mining Ltd to undertake a programme of archaeological investigation at Sharlston Colliery Reclamation Site,
New Sharlston, West Yorkshire (centred on SE 3834 2024). This work was designed to mitigate the impact of opencast coal extraction on potential archaeological remains,
and followed the requirements outlined in a project brief, prepared by the West Yorkshire Archaeology Advisory Service.
The programme of investigation included open-area excavation at the site of an early nineteenth-century pit-head, and an archaeological watching brief over two areas of known historical coal working, that were subject to opencast extraction.
The open-area excavation identified regionally significant structural remains, which indicated that during the early nineteenth century the pit-head comprised two pit shafts,
enclosed by a pit bank, and probably a Newcomen-type, atmospheric, pumping engine, an associated boiler house, and a horse-driven winding engine. Other structural
remains recorded during the excavation indicated that the pit-head was further developed in the first half of the nineteenth century through the construction of two ancillary buildings, a new boiler house and an additional engine house, which probably drove a winding mechanism. In addition, later remains were also present, which related
to the gradual decline and eventual abandonment of the pit-head during the later nineteenth and twentieth enturies.
Actions (login required)