Cook, Jo and Quartermaine, Jamie (2010) North West Regional Landscape Character Framework, Integration of Historic Landscape Chapter- Heritage Report. Project Report. OA North. (Unpublished)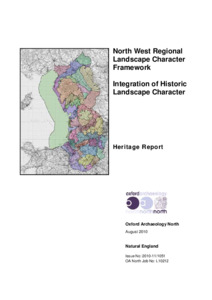 Preview
PDF




L10212_CompleteReport.pdf


Download (4MB) | Preview
Abstract
This project forms part of the Natural England North West Regional Landscape Character Framework (NWLCF), which aims to describe the variation in landscape at a regional scale
and provide a consistent level of mapping for all landscapes in the region, as 'a key step in the implementation of the European Landscape Convention' (Porter et al 2009, 4). The Convention calls for the integration of landscape into all relevant areas of policy, including cultural, economic and social policies. The NWLCF provides the vital stepping stone between national and local perspectives and aims to ensure that the landscape is fully integrated into regional and sub-regional policy. Furthermore, through the recognition that 'landscape' is a complex interaction between cultural, environmental, physical and heritage characteristics, the NWLCF aims to deliver the first fully comprehensive framework for landscape management and conservation throughout the region (op cit, 6-7).
The initial phase of the NWLCF defined regional landscape character types (RLCTs), which represent landscapes with similar characteristics (physical, environmental or cultural)wherever they occur in the region (op cit, 12-13). These were then used to create regional landscape character areas (RLCAs), which are parts of the landscapes with a unique identity within the region. Where possible, the boundaries of these RLCAs correlate with existing National Character Areas, or are subdivisions of them (http://www.naturalengland.org.uk/ourwork/landscape/englands/character/areas/). A baseline dataset on the biodiversity, cultural heritage and geodiversity of each RLCT was created in Phase 1, which was completed in 2009.
Phase 2, of which this project is one part, aims to provide more detail on the heritage, biodiversity and geodiversity of the RLCAs. It also aims to identify the change scenarios (that is the broad groupings of forces for change that are more appropriate to model for regional work than particular forces) that may affect the landscape character of the region (in a positive or negative manner), and rather more detailed objectives for the conservation and management
of the landscape. Oxford Archaeology North (OA North) has been commissioned to undertake the heritage aspect of this work, and the work was undertaken between January and April
2010.
Actions (login required)