Blythe, Kathryn (2008) Clayton-le-Woods, Lancashire- Desk-based Assessment. Project Report. OA North. (Unpublished)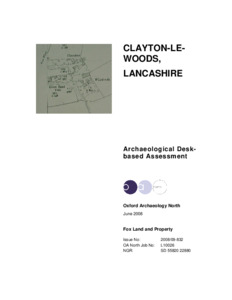 Preview
PDF




Complete rep.pdf


Download (3MB) | Preview
Abstract
Fox Land and Property has proposed a residential development at Clayton-le-Woods in Lancashire (NGR SD 5582 2288) and, in order to support the promotion of the site through the Local Development Framework process, commissioned Oxford Archaeology North (OA North) to undertake an archaeological desk-based assessment of the site. The principal aim of the assessment was to identify, as far as possible, the nature and significance of the cultural heritage and sub-surface archaeological resource within the study area, and to establish the impact of the proposed development upon this resource.
Whilst the route of a Roman road between Wigan and Preston (Site 14) has been projected to cross the site, representing its most important archaeological attribute, the only subsequent activity within the proposed development area appears to have been agricultural. The site formed part of Clayton manor until at least the late seventeenth century, and is likely to have been entirely rural. A farmstead named Woodcocks (Site 11), situated just beyond the boundary of the proposed development, is thought to date from at least the late sixteenth century. Another farmstead, Cuerdens (Site 10), lies partially within the proposed development area, and dates from the early seventeenth century. Features in the modern landscape of the site, including field boundaries and extraction pits, reflect post-medieval agricultural practices such as field enclosure and marling. The wider area remained rural until the mid-twentieth century, when suburb expansion encroached on former fields around Clayton-le-Woods.
In total, 29 sites of archaeological interest were identified within the study area during the desk-based assessment, although only 15 lie within the boundary of the proposed development. The sites included the projected line of a putative Roman road (Site 14) from Wigan to Preston, which runs parallel and a short distance to the east of the modern A49. All of the other archaeological sites of interest are likely to be of post-medieval origin, and pertain to agricultural practices. No listed buildings or Scheduled Monuments were identified within the study area, although the site lies within an area defined as 'Ancient Enclosure' by the Lancashire County Council Historic Landscape Characterisation programme, reflecting the antiquity of the surviving hedgerows.
The assessment has concluded that some intrusive archaeological investigation may be required in advance of development. In the first instance, this is likely to comprise a limited programme of trail trenching, which should be targeted on the projected line of the Roman road. The principal aim of the trial trenching would be to confirm the presence or absence of any buried archaeological remains. Any buried remains of post-medieval buildings associated with Cuerdens farm complex (Site 10) would also merit archaeological investigation.The most appropriate strategy here may be a programme of strip and record.
Actions (login required)