McPhillips, Sean (2008) Rock Triangle, Bury, Greater Manchester- Post-Excavation Assessment. Project Report. OA North. (Unpublished)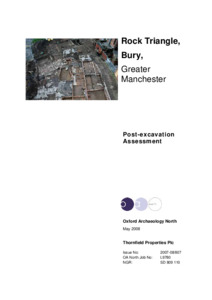 Preview
PDF




L9780_complete_rep_smaller.pdf


Download (4MB) | Preview
Abstract
Thornfield Properties Plc has proposed a scheme of large-scale redevelopment of an area of Bury, Greater Manchester, known as The Rock Triangle. The development site lies on the eastern fringe of the historic core of the town, bounded by Rochdale Road, The Rock, and Back Derby Street (centered on SD 809 110). In order to secure archaeological interests, Bury Metropolitan Borough Council, acting on advice provided by the Greater Manchester Archaeological Unit, attached a condition to planning consent that required an appropriate programme of archaeological investigation in advance of development. In the first instance, an archaeological desk-based assessment of the application site was required, which concluded that the site had some potential to contain buried remains of archaeological significance.
Following on from the desk-based assessment, it was recommended that a programme of archaeological evaluation was carried out in advance of development. The evaluation was targeted on areas within the application site that were considered to be of archaeological interest, and undertaken by Earthworks Archaeological Services between April and July 2006. The results obtained from the evaluation confirmed that parts of the site did contain in-situ buried remains of archaeological significance, which would be destroyed during the course of the proposed development. Following consultation with the Assistant County Archaeologist for Greater Manchester, it was recommended that a programme of further archaeological investigation was implemented to provide a detailed mitigation record of the buried remains in advance of their ultimate destruction. In accordance with this recommendation, Oxford Archaeology North (OA North) was commissioned by Under Construction Archaeology, acting on behalf of Thornfield Properties Plc, to undertake a programme of targeted excavations between December 2006 until September 2007.
The excavations were targeted across six areas of the application site, exposing archaeological remains of considerable local, and even regional significance. These largely consisted of remains pertaining to the rapid industrialisation of the site during the nineteenth century, although some of the remains around Bedlam Green (Areas 1 and 9-12) were dated to the late seventeenth or eighteenth century. Although no physical evidence for medieval settlement was identified on the site, several soil horizons may represent late medieval agricultural activity.
This assessment examines the results obtained from the excavations across The Rock Triangle, and assesses the potential for further analysis of each category of data with regard to the project's research aims. The process has been designed to correspond to the objectives laid out in the guidance document Management of Archaeological Projects, second edition (MAP 2; English Heritage 1991). It is concluded that some material classes merit further detailed analysis, including the metal-working residues and pollen, and that the results should be presented in a final archive report and synthesised into a local publication.
Actions (login required)