Miller, Ian (2014) NOMA Plot L, Miller Street, Manchester - Desk-based Assessment. Project Report. OA North. (Unpublished)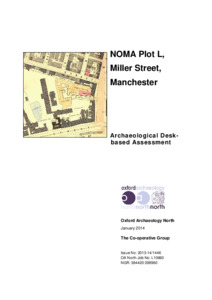 Preview
PDF




NOMA Plot L_Archaeological Assessment.pdf


Download (12MB) | Preview
Abstract
The Co-operative Group is presently considering enabling the redevelopment of land
situated in the Shudehill area of Manchester (centred at NGR 384420 398960). In
order to facilitate the process, the Co-operative Group commissioned Oxford
Archaeology North (OA North) to carry out an archaeological desk-based assessment
of the Site Area. This was intended to establish, as far as possible, the nature and
significance of the sub-surface archaeological resource within the area, and to
establish the impact of any future development upon this resource. The data generated
from the assessment is intended to provide an informed basis regarding the
significance of any archaeological heritage assets within the site. This was coupled
with the archaeological monitoring of six small trial pits that were excavated to
inform an understanding of the ground conditions across the site, but also allowed
some indication as to the survival of buried archaeological remains across the site.
In total, 43 heritage assets have been identified in the wider study area, of which 11
lie either partially or wholly within the boundary of the Site Area. None of the known
heritage assets identified within the Site Area are afforded statutory designation, and
are thus not considered to be of national importance that would require preservation
in-situ. However, any buried remains of Arkwright's Mill, especially the original
block, its waterwheel and the sequence of steam-power plant features, are of
considerable archaeological and historical importance, and may merit preservation insitu.
Actions (login required)