Mottershead, Graham and Stitt, Lewis (2014) Visitor Reception Buildings, Dunham Massey, Greater Manchester - Watching Brief. Project Report. OA North. (Unpublished)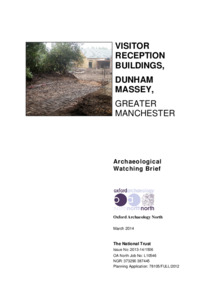 Preview
PDF




Visitor Reception Buildings, Dunham Massey_Archaeological Watching Brief.pdf


Download (12MB) | Preview
Abstract
Trafford Borough Council granted the National Trust planning permission (Application No. 78105/FULL/2012) for the proposed construction of a new visitor reception buildings at Dunham Massey Hall (centred on NGR 373290, 387445). The
location of this new building lies within the western half of the North Park, which historically forms the northern portion of Dunham Massey Old Park. The North Park
incorporates a walled deer park landscaped with avenues, water features and structures of late seventeenth to mid-eighteenth century, and forms part of a Grade II* Registered Park and Garden.
In order to secure archaeological interests for the development, Trafford Borough Council attached a condition to planning consent (Condition 8) that required the works to be accompanied by an appropriate scheme of archaeological investigation.
Following consultation with the National Trust Archaeologist (North West Region) and the Greater Manchester Archaeological Advisory Service, it was recommended
that an archaeological watching brief was implemented to monitor all earth-moving works necessitated by the construction programme. In July 2012, Oxford Archaeology
North was commissioned to undertake the required programme of archaeological monitoring. This commenced in November 2012, and continued intermittently until
November 2013. The archaeological investigation was focused on the footprint of the new visitor reception buildings and associated infrastructure and landscaping works,
although the excavation of several narrow trenches for new services that cut across the site to the south-east were also monitored.
Actions (login required)