Gregory, Richard (2014) Tarnside Close, Smallbridge, Rochdale - Archaeological Assessment and Heritage Statement. Project Report. OA North. (Unpublished)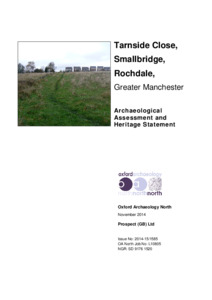 Preview
PDF




L10805_TarnsideClose_FullRep.pdf


Download (6MB) | Preview
Abstract
Prospect (GB) Ltd is devising proposals for a new housing development off Tarnside
Close, Smallbridge, in the Metropolitan Borough of Rochdale, Greater Manchester
(centred on NGR SD 9176 1520). The development proposals allow for the erection
of 67 new houses, which will inevitably necessitate considerable earth-moving works,
with potential to impact on buried archaeological remains, such any such remains
survive in-situ. The proposed development site (the Site Area) does not contain any
designated heritage assets that are afforded legal protection, although five Grade II
listed buildings lie within 500m of the Site Area.
In order to inform the design proposals and support the planning application, Prospect
(GB) Ltd commissioned Oxford Archaeology North to undertake an archaeological
assessment and heritage statement of the site. This aimed to establish, as far as
possible, the nature and significance of the sub-surface archaeological resource within
the site, assess the impact of any future development upon this resource. The
assessment was also required to consider the potential impact on the setting of the
listed buildings that lie within the vicinity of the Site Area.
The archaeological assessment has considered an area of 500m centred on the Site
Area. The assessment comprised a search of both published and unpublished records
held by the Greater Manchester Historic Environment Record (HER), the local studies
centre at Touchstones in Rochdale, and the archives and library held at OA North. In
addition, a walk-over survey was carried out within the boundary of the Site Area in
order to relate the landscape and surroundings to the results of the desk-based
assessment, and identify any additional features that could not be procured solely
from documentary sources. As part of the walk-over survey, detailed consideration
was also afforded to the settings of five listed buildings within the wider study area.
Actions (login required)