Fletcher, Taleyna (2014) The Ordnance Hotel, Felixstowe, Suffolk. [Client Report] (Submitted)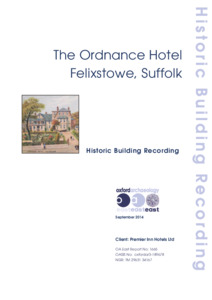 Preview
PDF




FEX319_Report 1665_LR.pdf


Available under License Creative Commons Attribution Share Alike.
Download (8MB) | Preview
Abstract
In late July/early August 2014 Oxford Archaeology East conducted an historical building survey at the Ordnance Hotel, Felixstowe.
This work was carried out in response to a request from Suffolk Coastal Districts Conservation Officer. The work required comprised a survey, equivalent to an English Heritage Level 3, to be carried out on the building prior to demolition.
The hotel lies within the South Felixstowe Conservation area but is not a listed building. Thought to date to the mid 19th century and possibly originating as a smaller house or inn, the survey and background research revealed five main phases of alteration. Its "hey day" would appear to have been in the early 1900s when a boom in tourism brought more visitors to the town which was becoming popular as a seaside resort.
Cartographic evidence indicates that there were several other buildings associated with the hotel, including stables and garages within the rear courtyard in addition to a pavilion, tennis court and greenhouse. These buildings represented the popularity of the hotel in the early 20th century and were only recently demolished as they appear on the 1995 Ordnance Survey Maps. Consequently this survey was targetted on the remaining building – the hotel.
The survey of the fabric of the building revealed that the internal layout of the hotel has changed significantly since its construction in the mid 19th century. Significant changes to the structure took place in the late 19th century, c.1913, c.1927 and in the mid 1950s. The standing building survey, combined with cartographic and photographic evidence, has helped to pinpoint the dates of these alterations. Evidence of an earlier, much smaller building, reputedly built around 1854 was also noted within the current roof structure and first floor corridor.
Background research was undertaken at Suffolk Archives in Ipswich where crucial documents including architects plans, maps and advertisements were found. A number of photographs and postcards which were on display in the hotel also provided fascinating images of the hotel and the facilities it once offered.
Although there are some existing documents and information relating to the hotel, this is the first known survey to comprise a full descriptive report and analysis of the building(s) and materials used in their construction. This information includes details of the ancillary buildings which are now lost but are essential to understanding the hotel's history and development.
Actions (login required)