Street, Rachel (2014) NOMA Public Realm, Redfern Streetm Manchester - Desk-based Assessment. Project Report. OA North. (Unpublished)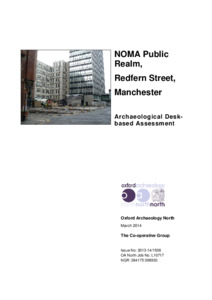 Preview
PDF




NOMA L10717_NomaPublicRealm_FullRep.pdf


Download (12MB) | Preview
Abstract
The Co-operative Group has devised proposals for a scheme of public realm works as
part of the NOMA Regeneration in the Shudehill area of central Manchester. The
proposals allow for the development of a new public square on Redfern Street
(centred at NGR 384175, 398930), together with associated landscaping works. The
creation of the new square will necessitate substantial earth-moving works that will
reduce the existing ground levels up to a maximum depth of c 3m. The reduction of
existing ground levels by c 1.5m is also proposed along the Miller Street frontage,
immediately to the north of New Century House. Beyond the proposed new square,
sections of Hanover Street, Dantzic Street, Federation Street and Mayes Street are to
be re-surfaced, although the anticipated depth of ground-reduction beneath the line of
these streets is minimal.
In order to facilitate the process, the Co-operative Group commissioned Oxford
Archaeology North (OA North) to carry out an archaeological desk-based assessment
of the Site Area. This was intended to establish, as far as possible, the nature and
significance of the sub-surface archaeological resource within the area, and to
establish the impact of any future development upon this resource. A separate study
undertaken by Stephen Levrant Heritage Architecture Ltd has examined the above
ground resource and should be read in conjunction with this report. It concluded that
the development will have direct impacts on several listed buildings (ranging from
moderate beneficial to moderate adverse); the cumulative impact of the works will not
be adverse and the proposals will retain the significant characteristics and appearance
of the Listed Buildings as a whole.
In total, 62 heritage assets have been identified in the wider study area, of which 15
lie within the boundary of the Site Area. None of the below ground heritage assets
identified within the Site Area are afforded statutory designation, and are thus not
considered to be of national importance that would require preservation in-situ. Of the
other non-designated heritage assets within the Site Area, several merit preservation
by record, where these will be directly affected by development. In particular, any
buried remains of the late eighteenth- and early nineteenth-century buildings within
the footprint of the proposed new square are likely to be of sufficient interest to merit
preservation by archaeological record.
Actions (login required)