Schofield, Peter (2009) Uplands Initiative Field Projects 2008-9, Llyn Celyn Survey Area, North Wales- Archaeological Survey Report. [Client Report] (Unpublished)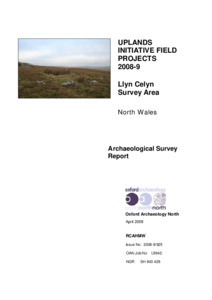 Preview
PDF




L9942_FullRep_reduced.pdf


Download (10MB) | Preview
Abstract
An archaeological identification survey of the mountainous region on the north side of Llyn Celyn (SH 843 428 centred), near Bala, North Wales was undertaken between July 2008 and February 2009, by Oxford Archaeology North (OA North) on behalf of the Royal Commission on the Ancient and Historical Monuments of Wales (RCAHMW) as part of the Uplands Initiative. The project comprised an initial archaeological desk-based study, followed by a field identification survey for the study area.
The survey of Llyn Celyn covers an area of 36.5 sqkm and consists of rolling moorland ascending the Arenig mountains, which form a chain following the county boundary between Gwynedd and Conwy and are on the north side of the Tryweryn valley and Llyn Celyn reservoir. The study area consists of a mixture of sloping open moorland and boggy areas, which rises from approximately 300m to 689m OD on the summit of Arenig Fach, with the moorland being fringed by semi-improved enclosures on the lower slopes and cwms.
In total, 24 sites were established by the desk-based study as being recorded within the Historic Environment Record (HER) and National Monument Record (NMR), all of which were updated and 6 NMR and 18 HER sites were given new NMR numbers. In total, 472 new sites were identified by the field survey, representing a substantial numerical increase in the number of sites within the study area.
Evidence from the prehistoric period is limited to a relatively low concentration of funerary monuments, for the most part summit cairns similar to those found throughout the surrounding region. There is a new cairn identified on the summit of Arenig Fach which now makes a pair of monuments at the location, whilst the original cairn may be a ring cairn. Two further round cairns were discovered that both were located on small spurs of land, and were similar in altitude and aspect, overlooking the Tryweryn valley.
Actions (login required)