Phillips, Tom (2009) Middle Iron Age settlement and industrial activity at Ermine Business Park, The Stukeleys, Cambridgeshire. [Client Report] (Unpublished)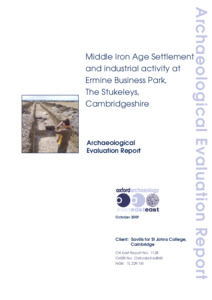 Preview
PDF




oxfordar3-64860_1.pdf


Available under License Creative Commons Attribution Share Alike.
Download (19MB) | Preview
Abstract
Between 24th August and 11th September 2009 Oxford Archaeology East (formerly
CAM ARC, Cambridgeshire County Council) conducted an archaeological
evaluation on 29ha of arable land directly to the west of Ermine Business Park, The
Stukeleys, Cambridgeshire. Prior to evaluation field walking and geophysical survey
had been carried out. Field walking indicated a background presence of Roman,
medieval and post medieval activity but with no real concentrations of artefacts. A
sample strip geophysical survey produced extensive evidence of the pre-enclosure
field system of ridge and furrow but no indication of earlier features.
The evaluation consisted of 70 machine excavated trenches ranging between 26m
and 100m in length, providing a 4% sample of the area. Trenching revealed two
discrete sites located across the two fields, A and B. Site 1, in field A, was
interpreted as a Middle Iron Age industrial area consisting of one or more large pits
with a diameter of approximately 20m. The part of the cut that was exposed was
square with vertical sides and a very flat base. It was cut into chalk and artefacts
included metal working waste. When the pit was partially silted up a series of pits,
post holes and a linear feature were dug near to the upper edge. Associated with
these features was a deliberately laid pebble surface which included some burnt
stones. Also in field A were several ditches representing field boundaries or land
divisions, part of a co-axial field system. One of these may have extended, although
not continuously, for 200m as it was encountered in three trenches. Part of its
course was close to the large pits in Site 1. Another ditch on the northern edge of
Site 1 contained a domestic dog burial.
Site 2, in field B, consisted of an area of Middle Iron Age settlement. Features
included several boundary ditches, some of a considerable size, two possible water
holes, a pit and a curvilinear gully which could have been part of a roundhouse. The
settlement was restricted to a relatively small area, approximately 1ha. Beyond this
no Iron Age activity was encountered.
In addition, trenching revealed extensive evidence of medieval and post medieval
ridge and furrow across much of the site, as well as features interpreted as
agricultural strips. These may have aided drainage in some way and on the whole
followed no discernible pattern or orientation. Some were truncated by the furrows,
others truncated the furrows. They all cut through the sub soil.
Actions (login required)