Blythe, Kathryn (2008) Commercial Street, Castlefield, Manchester- Desk-based Assessment. Project Report. OA North. (Unpublished)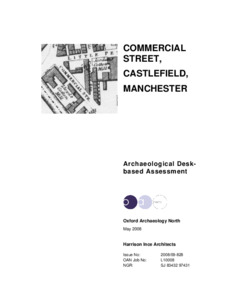 Preview
PDF




Complete_rep_reduced.pdf


Download (4MB) | Preview
Abstract
In response to a request from Harrison Ince Architects, Oxford Archaeology North (OA North) undertook a desk-based assessment of a proposed development site on Commercial Street, Castlefield, Manchester (centred at NGR SJ 83432 97431). The assessment was undertaken during April and May 2008, and was required to assess the archaeological significance and potential of the site to support a planning application for proposed development.
The site lies within an area of Manchester that is of considerable archaeological and historical significance. Indeed, many of the structures in the vicinity of the study area form one of the foci for the current proposal for Manchester's nomination as a World Heritage Site. In particular, the terminus of the Duke of Bridgewater's Canal, Britain's first true artificial waterway, lies approximately 80m to the north-west and elements of the water-management control mechanism associated with this canal are situated across the River Medlock a short distance to the west of the proposed development area.
The first structures known to have been erected within the proposed development site were a commercial building fronting Constance Street, and a row of blind-back houses, both of which are shown on mapping from 1831. The remainder of the site has been subject to small piecemeal development, although elements appear to have only been developed as yards. The blind-back houses had been demolished by the late nineteenth century, although the long commercial building fronting Constance Street survives extant.
The study area is of archaeological interest, and it is likely that a programme of archaeological investigation will be required in advance of the proposed development. In the first instance, whilst the extant early nineteenth-century building fronting Constance Street is not a designated site, and does not have legal protection against development, it will require an archaeological record to mitigate its ultimate loss as part of the proposed development.
The site also has some potential to retain buried remains of archaeological interest. It lies some 200m to the south-east of the Roman fort, in an area that may have formed part of the Roman cemetery; artefacts of a Roman date discovered in the vicinity of the study area include two inscribed altars, a coin hoard, and fragments of pottery. Whilst the site was developed intensively during the nineteenth century, elements of the central part of the site do not appear to have been subject to deep earth-moving works, offering some potential for buried remains to survive in-situ. In addition, the foundations of early nineteenth-century workers' houses are considered to be of local archaeological interest. The presence or absence of these remains should be confirmed by intrusive investigation prior to development.
Actions (login required)