Clapperton, Kelly (2007) Stoker's Garage, Kirkland, Kendal, Cumbria- Desk-based Assessment, Evaluation and Photographic Recording Report. Project Report. OA North. (Unpublished)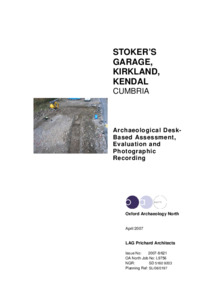 Preview
PDF




Complete_rep_reduced.pdf


Download (4MB) | Preview
Abstract
In September 2006 Oxford Archaeology North (OA North) were commissioned by LAG Prichard Architects to undertake an archaeological desk-based assessment and evaluation ahead of the development of a medical facility at the former Stoker's Garage Site, Kendal (NGR SD 5160 9203; planning ref SL/06/0197). During the desk-based assessment a 500m radius study area was analysed for archaeological sites. Ten medieval sites were identified, including the Church of the Holy Trinity (Site 6) and Castle Howe Motte and Bailey (Site 15), together with another eight sites dating to the post-medieval period (Section 4). A regression of historical cartographic sources, including early editions of the Ordnance Survey, suggested that the proposed development site had been inhabited from the medieval period, and was located within one of the oldest areas of Kendal (Section 4.1). OA North, therefore, undertook a phase of intrusive groundworks, excavating four trenches across the site to identify any earlier archaeological remains that may have survived below the modern garage.
The results of the evaluation indicated that any features pre-dating the garage had been truncated by twentieth-century development. Following removal of rubbly overburden, all four trenches revealed various water-worn natural gravels, suggesting that an earlier water-course ran across the site. A short stretch of sandstone wall, undated but likely to be eighteenth-century in origin, if not older, comprised the only feature of archaeological significance. The majority of finds recovered from the site date to the later nineteenth and twentieth century, although the discovery of one fragment of eighteenth-century lead-glazed pottery is likely to relate to the earlier post-medieval occupation of the site, revealed by the desk-based assessment.
Following a site visit, CCCHES requested that a programme of photographic recording be undertaken on the remains of the rear wall of the site, which survived on a series of terraces. Subsequent to the approval of a second project design, the work was undertaken in February 2007 and identified that the rear wall had been built and modified on a number of occasions, with the lower sections relating to the 1920s Crabtree and Co garage. However, the upper elements represented parts of an older boundary wall marking the rear of the Kirkland burgages and which continued to the north along the steep slope which had otherwise been terraced at the present development site. Surviving features included perpendicular wall stubs demarcating the old burgage divisions, and blocked arches relating to entrances accessing the back alley that formerly ran to the rear of the site.
As such, this wall represents the only surviving feature of any archaeological importance on the site and, as long this is avoided during construction works, the development will have no significant impact on the archaeological resource.
Actions (login required)