Atkins, Robert (2008) Roman, Saxon and medieval settlement remains along the Stow Longa to Tilbrook Anglian Water Pipeline. [Client Report] (Unpublished)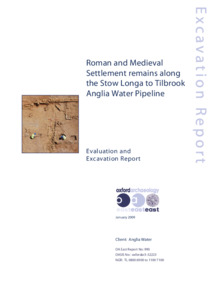 Preview
PDF




oxfordar3-52223_3.pdf


Available under License Creative Commons Attribution Share Alike.
Download (6MB) | Preview
Abstract
Between November 2007 and October 2008 OA East conducted a series of
evaluations and two small excavations along a proposed Anglian Water pipeline and
associated pumping stations from Stow Longa to Tilbrook. The archaeological
work was very piecemeal over long periods of time and comprised 14 evaluation
trenches (700m) on land between between the villages, 7 evaluation trenches
within Tilbrook and 2 small excavations within Stow Longa.
Within Tilbrook village there were at least two phases of Middle to Late Saxon
occupation to the west and north-west of All Saints church and this was recorded
over more than 100m length within 4 Trenches. The Middle and Late Saxon features
ran in all directions including towards the All Saints Church boundary wall. These
features are at odds with the well planned north to south and east to west gridded
plan of Tilbrook today with the church in the centre of a large sub-rectangular
gridded layout. This implies that Tilbrook was re-planned probably in the later 11th
century. A few probable medieval quarry pits were also found and these seem to
have been dug for the extraction of gravel. A large amount of modern make up
deposits was uncovered near the river in the position where the 1802 map of
Tilbrook seems to show there had been a mill leat.
In the area between Tilbrook and Stow Longa evaluation trenches found previously
unknown settlement(s) remains between a 1km and 1.5km to the north-east of
Tilbrook. An Early/Middle Roman period (2nd to 3rd centuries AD) settlement was
found within within three evaluation trenches over a 400m area. Overlaying this
settlement in one trench was an Early Saxon to Late Saxon settlement (6th to
middle/end 9th centuries AD). This latter trench was by far the most dense with the
remains of 20 postholes probably of several different phases, some in linear
alignments, 13 ditches (Roman and Early/Middle and Late Saxon) and at least four
pits. Two of these pits were dated to the Early/Middle and Middle Saxon period and
had been used as rubbish pits.
An excavation at Church Lane, Stow Longa found six phases of occupation/activity.
The earliest remains comprised a bank running parallel adjacent to the east of
Church Lane. This bank was cut by a Middle Saxon ditch running parallel to the
road and the latter could have represented a road-side ditch. The next phase
consisted of a clay floor which was probably a 12th or 13th century date. This floor
may relate with one or two of the east to west possible plot boundary ditches c.3m
and 9m respectively to the north. This structure went out of use in around the 13th
or 14th century as it was cut by east to west ditch. In the late medieval period
(c.16th century), there was a probable post hole and post/pad structure and
associated yard surface partly within the excavation area and was probably the
structure recorded within the site on the 1591 map. The dating of artefacts within the
cobbled surface show that it is likely this structure was abandoned by the end of the
17th century and the area has become pasture/grassland since.
The Spaldwick Road, Stow Longa, site found the southern boundaries of the former
cobbled medieval road and its associated roadside ditch. This part of the road
surface was abandoned by the early medieval period. After disuse, the ground
surface was raised in the 18th century with a dumping layer associated with the
adjacent 18th century brick boundary wall of the manorial farm.
Actions (login required)