Taylor, Karl (2013) Ambleside Roman Fort, Ambleside, Lake District - Geophysical Survey. Project Report. OA North. (Unpublished)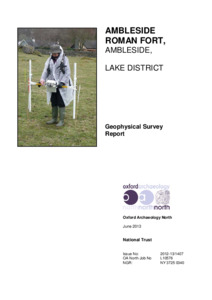 Preview
PDF




L10576_AmblesideRomanFort_FullRep_red.pdf


Download (6MB) | Preview
Abstract
Ambleside Roman Fort (NGR NY 3725 0340) dates to the late first and second centuries AD and is a scheduled monument (SM13567), owned and managed by the National Trust. The surviving features on the site relate to the second fort constructed on the site, although there is a possibility that elements of the earlier fort are also represented. Following a recent donation to the National Trust, funding became available to carry out a programme of geophysical survey, at the fort and the National Trust requested a project design outlining a methodology for the survey to be carried out with assistance from volunteers; this was part of 'Romans by the Rivers', one of nineteen projects that combine to form Windermere Reflections. Following
acceptance of the project design, Oxford Archaeology North (OA North), were commissioned to carry out the survey, which was undertaken in several separate visits in February, March and April 2013. The first visit to the fort in February consisted of a one day trial survey using magnetometry, undertaken without volunteers, in order to assess the suitability of the technique and on the subsequent survey days this provided volunteers with a data set prior to carrying out the main survey.
The subsequent geophysical survey identified a number of responses that represent features associated with the Roman Fort, including internal structural remains, and external features, such as former defences. While both the magnetometry and resistivity surveys have identified features of archaeological potential, the resistivity survey was more successful in outlining the internal layout of the fort. Features such as buried structural remains, banks and ditches have been more easily identified using the resistance technique. The magnetometry survey was affected by large areas of magnetic debris/disturbance, particularly within the interior of the fort, which hindered the identification of features.
Actions (login required)