Hughes, Vix (2002) Beech Grove, Stanwix, Carlisle- Assessment and Evaluation. Project Report. Oxford Archaeology North. (Unpublished)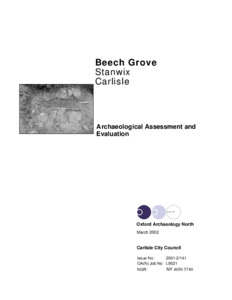 Preview
PDF




L9021-Complete report.pdf


Download (48MB) | Preview
Abstract
Oxford Archaeology North (formerly Lancaster University Archaeological Unit) undertook a desk-based assessment and evaluation, in February 2002, on the site of a proposed juvenile recreation development area, on behalf of Carlisle City Council. The site lies on the edge of Stanwix, a residential area to the north-east of Carlisle, and occupies part of a field immediately north of Tarraby Lane. The development site is located on the line of Hadrian's Wall, at Beech Grove, Stanwix (NY 4050 5740) and is in close proximity to the large Roman fort in Stanwix; the section of Hadrian's Wall adjacent to the development site is a scheduled ancient monument (SM 28482) and the Hadrian's Wall frontier has been designated as a World Heritage Site.
The assessment involved the examination of all pertinent documents and cartographic sources held in the County Record Office, Carlisle, and the consultation of the County Sites and Monuments Register based in Kendal. In addition, numerous published sources and unpublished client reports were consulted to provide background information and details on archaeological interventions undertaken in the locality.
Numerous archaeological interventions have been undertaken within the environs of the study area and these have demonstrated the presence of archaeological remains relating to Hadrian's Wall, the earlier Stanegate frontier, and a pre-frontier field system. On the basis of these results it was evident that there was a high potential for sub-surface archaeological remains within the immediate vicinity of the development site.
A programme of evaluation trenching was undertaken to investigate the below ground survival of archaeological remains. The evaluation involved the mechanical excavation of two 4m long trenches in the area of the proposed play ground. In Trench 1 the northern side of Hadrian's Wall was uncovered, at a depth of 0.45m, and in Trench 2 the southern side of the Wall ditch was seen. The trenches did not expose the full extent of either feature, which extended beyond the limits of the excavation.
The evaluation has demonstrated a very significant archaeological resource of international importance. It is therefore recommended that the location of the play area be moved away from the present proposed position to one on the opposite side of Tarraby Lane, which, on the evidence of earlier evaluations, has a lower level of archaeological sensitivity. However, further evaluation trenching should be undertaken on the new location for the development site to ensure no direct impact on an important archaeological resource.
Actions (login required)