Mottershead, Graham (2015) Plot 2, Hopes Carr Phase 2, Stockport - Evaluation. Project Report. OA North. (Unpublished)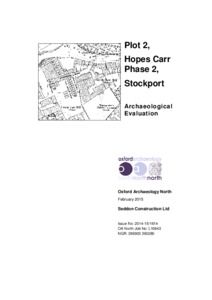 Preview
PDF




Plot 2, Hopes Carr_Archaeological Evaluation Report.pdf


Download (5MB) | Preview
Abstract
Seddon Construction Ltd has obtained planning consent to deliver the proposed redevelopment of land at Hopes Carr in Stockport (centred on NGR 389903 390280).
The site was occupied formerly by a number of industrial premises, the archaeological importance of which has been highlighted in a desk-based assessment of the site that
was produced by the University of Manchester Archaeological Unit in 2004. In the light of the conclusions drawn from the desk-based study, the Greater Manchester Archaeological Advisory Service recommended that a programme of archaeological investigation was carried out in advance of development.
In March 2013, Oxford Archaeology North (OA North) was commissioned by Seddon Construction Ltd to carry out an appropriate scheme of works which, in the first instance, comprised an archaeological building investigation of the Orchard Street range of the former Churchgate Mill, and the excavation of a series of evaluation trenches across two of the proposed development plots.
Three evaluation trenches were excavated across Plot 4 in 2014, and a single trench was placed across Plot 2 in February 2015. The trench excavated across Plot 2 comprised of a single trench measuring 3.2m long, which was placed within the area to the rear of the properties that fronted Churchgate. This trench was intended to investigate the presence or absence of any remains pertaining to medieval burgage plots that may have occupied this area, together with the remains of insubstantial structures shown on historical mapping to have occupied the end of these plots.
Actions (login required)