Raynor, Caroline and Johnson, Nick (2012) Mann Island, Liverpool- Archaeological Excavation Report. Project Report. OA North. (Unpublished)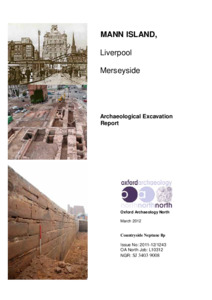 Preview
PDF




L10312_MI_Full_report_reduced.pdf


Download (8MB) | Preview
Abstract
The area known as Mann Island (centred at SJ 3403 9008) is bounded on the north by a road of the same name, on the east by The Strand, and on the west by the Mersey itself, while the Canning Graving Docks form the southern limit. The Strand, as the name implies, marks the approximate position of the natural shoreline of the Mersey, prior to two centuries of land reclamation. Mann Island itself, which lies partly within the Maritime Mercantile City of Liverpool World Heritage Site, consists entirely of made ground, created during the construction of a series of docks.
The process of reclamation began in the early eighteenth century, when a tidal basin to ease the approach to the Old Dock (built 1710–17) was established. The later extension and development of this, from c 1738, created the Dry Dock, from which Canning Dock was adapted in 1829. Further phases of reclamation westwards culminated in the establishment of Manchester Basin (later Dock) in 1785.
The archaeological excavations on Mann Island, carried out by Oxford Archaeology North between May 2007 and May 2008, with further work in July 2009 and May 2011, on behalf of Countryside Neptune, occupied ground extending from the early eighteenth-century reclamation close to the original shoreline, westwards to the northern and eastern walls of Manchester Dock, and included successive limits of land reclamation in between. From an examination of historical records and maps, it was apparent that the excavation was likely to encounter the remains of sea walls, the Dry Dock, the passage between Canning Dock and George's Dock to the north, Manchester Dock, the Mersey Railway Pumping and Ventilation Station, and buildings which occupied the area marked on maps as Nova Scotia.
Actions (login required)