Bates, Andrew (2003) Poortown Quarry Development- Environmental Impact Assessment. Project Report. Oxford Archaeology North. (Unpublished)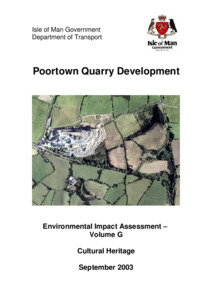 Preview
PDF




Complete Report.pdf


Download (3MB) | Preview
Abstract
This report considers the potential archaeological impact on the existing environment from the proposed development of Poortown Quarry in an easterly direction. It has been prepared by Oxford Archaeology North (OA North) on behalf of the Isle of Man Department of Transport and forms Volume G of the Environmental Impact Statement.
Burroughs Stewart Associates, acting on behalf of the Isle of Man Department of Transport to compile an Environmental Impact Assessment for the extension of Poortown Quarry (NGR SC 275 834), commissioned OA North to undertake an archaeological assessment of the outlined development area known as the Rockmount Fields. Due to the presence of gorse, only two of the three fields outlined were investigated in the first phase (known here as Fields 1 and 3, Field 2 is to be investigated as a second phase). An archaeological desk-based assessment of the site had already been completed prior to the commencement of this project by Wardell Armstrong in 1999. A program of geophysical survey using magnetometry, conjoined with the excavation of 1m test pits, in accordance with an archaeological brief issued by Manx National Heritage, was undertaken to evaluate the site further.
The main archaeological site in the vicinity is the Neolithic burial chamber known as Giant's Grave located immediately to the north of the proposed extension. The program of evaluation did not identify any sites of archaeological significance. However, the presence of ridge and furrow was identified in Fields 1 and 3 by the geophysical survey. Large areas of magnetic disturbance were also located during the magnetometer survey together with feint linear anomalies. Test pitting of the features showed that these related to probable geological effects due to the presence of igneous intrusions. However, a small number of flints were located from the soil horizon, including two dated to the Neolithic; one arrowhead and one hollow scraper. No further archaeological features were identified in Fields 1 and 3 during this phase of work, although a number of geomorphological features were identified.
It is recommended that no further archaeological investigation be undertaken in Fields 1 and 3 prior to the development taking place, although a watching brief on the topsoil stripping will be employed due to the small sample of the field covered by the test pits. Field 2, the most promontory field in the study area, will be subject to the same or similar program of archaeological investigation once that the gorse has been removed and the area becomes available.
Actions (login required)