Healey, Chris (2006) Mickle Trafford to Ellesmere Port Pipeline, Cheshire- Archaeological Evaluation and Palaeoecological Analysis. Project Report. Oxford Archaeology North. (Unpublished)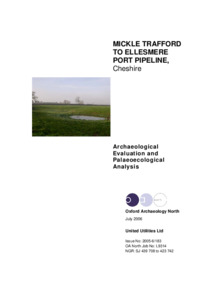 Preview
PDF




complete report.pdf


Download (43MB) | Preview
Abstract
Oxford Archaeology North (OA North) was commissioned by United Utilities Ltd to carry out an archaeological evaluation and a palaeoenvironmental analysis in advance of the construction of a new pipeline from Mickle Trafford Waste Water Treatment Works to Ellesmere Port Waste Water Treatment Works (NGR SJ 442 707 to SJ 423 742), which follows the course of the River Gowy.
A programme of desk-based assessment, palaeoenvironmental assessment, walkover and geophysical survey (OA North 2003), initially undertaken across the whole of the pipeline corridor, served to target an area of high archaeological potential within the study area considered in this report. This study area was then subject to a further phase of archaeological works.
A programme of palaeoecological investigation to provide further background information was conducted in May 2004. This concentrated on samples taken from one of the paleochannels which had been identified in the preliminary phase of works as core 7a, some distance to the north of the study area.
Archaeological evaluation trenching comprised the excavation of 5% of the study area, which was located close to the southern end of the pipeline. The evaluation trenches were located sporadically along the pipeline easement to achieve as wide a coverage as possible within the study area.
Trial trenching revealed that in the area excavated there was nothing identified of any archaeological significance. The palaeoenvironmental analysis demonstrated that there has been human influence on the vegetation around the site since prehistoric times. Three specific clearance phases seem to be represented: the first in Neolithic times; the second perhaps during the Bronze Age; and the third in the late Iron Age/early Roman period.
Actions (login required)