Mottershead, Sarah (2015) Briscoe Lane Academy, Briscoe Lane, Newton Heath, Manchester - Evaluation. Project Report. OA North. (Unpublished)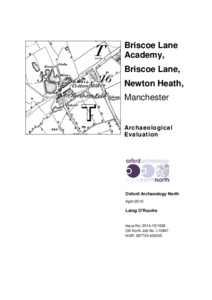 Preview
PDF




Briscoe Lane Academy Evaluation Report.pdf


Download (4MB) | Preview
Abstract
Laing O'Rourke has been commissioned by Manchester City Council to deliver proposals to increase the capacity of Briscoe Lane Academy in Newton Heath, Manchester (centred on NGR 387724 400035). The proposed development will augment the school site with the addition of a new single-storey classroom block, which will necessitate considerable earth-moving works with a potential to have a negative impact on any buried archaeological remains.
The archaeological potential of the site has been highlighted by a desk-based assessment produced by Atkins Heritage in 2014, which showed that the site had been
developed initially during the post-medieval period, with intensive industrial development occurring in the nineteenth century. In particular, a farmhouse known as Cheetham Fold may have occupied at least part of the study area since the sixteenth century, whilst nineteenth-century development included the construction of a textile
printing works and a cotton mill. In the light of the conclusions drawn from the desk based assessment, the Greater Manchester Archaeological Advisory Service
recommended that a programme of intrusive archaeological investigation of the site was merited in advance of development, in accordance with the National Planning
Policy Framework, Paragraph 128. Oxford Archaeology North (OA North) was commissioned by Laing O'Rourke Ltd to
carry out the required scheme of works. This comprised the mechanical excavation of five trenches within the study area. The evaluation uncovered two short sections of
wall foundation and levelling material that was perhaps for an internal floor in the central southern part of the study area, adjacent to Briscoe Lane, that may have been
associated with a former farm building and/or the early nineteenth-century printing works. Stone-capped brick drains observed in three of the trenches may also have been associated with the printing works or the later cotton mill. The mill was not cellared, and appeared to have been completely cleared to sub-floor level, and the area then levelled with demolition rubble before being landscaped. The deep construction trench for a modern sewer will also have destroyed any buried archaeological remains across part of the site. Elements of the former reservoirs associated with the printing works and cotton mill may be present in the study area, but these lay beyond the area investigated by the evaluation trenches. However, earth-moving works required as part of the removal of Japanese knotweed from this part of the site revealed twentiethcentury
infill of no archaeological interest. The results obtained from the evaluation trench demonstrate that there is little
potential for significant archaeological remains to survive in-situ. It is thus unlikely that any earth-moving works associated with the proposed development would have a negative impact on the buried archaeological resource, and it is considered unlikely that any further intrusive investigation of the site is merited.
Actions (login required)