Stocks-Morgan, Helen (2015) Multi-Period Remains at Eye Airfield, Parcels 13-15, Eye, Suffolk. [Client Report] (Submitted)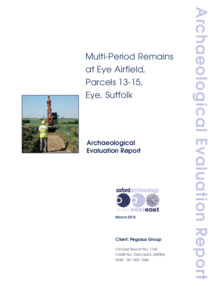 Preview
PDF




report No_1742 revised final LR.pdf


Available under License Creative Commons Attribution Share Alike.
Download (17MB) | Preview
Abstract
An archaeological evaluation was carried out on parcels 13 – 15, Eye Airfield, Eye, Suffolk (TM 1401 7446). The fieldwork took place between the 10th and 27th February 2015. A total of 63 trenches were excavated within the proposed development area, with some trenches targeting archaeological features suggested by geophysical survey and others located to test supposedly blank areas.
The earliest recorded features lay to the east in parcel 13A, and comprise six postholes, ascribed to a possible Early Neolithic settlement site. Later Prehistoric, Early and Middle Iron Age occupation was present in two forms, the first being a trackway aligned north to south, for which there was evidence of metalling in the form of a remnant of a cobbled surface, and also in the form of a series of discrete and dispersed pits and postholes. Both of these were encountered to the west of the site in Parcel 13A.
To the east of the site, in parcel 13A, were three graves and a horse burial which are potentially of Anglo-Saxon date. These may form a small burial ground for a family group, associated with the settlement site located to the south at Hartismere School.
Later medieval activity is present in parcels 13A, B and C. In the eastern side of the site, in parcels 13B and C, the remains of two phases of field boundaries were present, with a pre-enclosure field boundary recorded. A later field boundary ditch, dating at the earliest to the 18th century and subsequently removed, was revealed as a ditch aligned east to west which partitioned the current field into smaller parcels of land.
Actions (login required)