Bush, Louise (2014) Covenham WTW to Boston Transfer. [Client Report] (Submitted)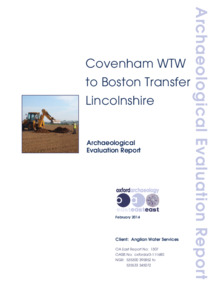 Preview
PDF




Updated Report 1307 LR.pdf


Available under License Creative Commons Attribution Share Alike.
Download (9MB) | Preview
Abstract
Between 19th September 2011 and 8th March 2013, Oxford Archaeology East carried out a archaeological evaluation compromising 207 trenches along a 60km long and 30m wide pipeline corridor between Covenham St Mary (535300 395852) and Boston (535533 345072), Lincolnshire. This was undertaken in advance of the laying of a water pipe and the construction of pumping stations, temporary discharge lagoons and construction compounds.
Along its length, the proposed pipeline passes through areas of flat arable farmland, the rolling hills of the Lincolnshire Wolds and the fen edge and fenland landscapes. The pipeline extends through and close to a number of areas of archaeological interest.
The trench evaluation highlighted several sites of archaeological potential. A large tree throw, immediately west of the village of Harrington, was seen to contain over 500 struck flints dating from the Late Mesolithic and/or Early Neolithic period. An undated double crouched burial containing an adult and adolescent situated in a hollow was also uncovered in a trench adjacent to the A16 near Stickney.
Further trenching at Harrington showed evidence for Iron Age activity in the form of a large number of ditches containing Iron Age pottery. Trenches on the periphery of North Cockerington revealed several substantial ditches containing Iron Age pottery, large quantities of animal bone and a hammerstone. Part of the drip gully from a round house was also uncovered.
Several ditches on varying alignments, including a very substantial enclosure ditch, were uncovered in a trench near Authorpe. These features produced pottery, fired clay and animal bone dating to the Latest Iron Age. Trenches to the west of Hundleby revealed a series of large Iron Age ditches and small clay-lined pits. Further trenching to the south of Hundleby uncovered a substantial enclosure of either Bronze Age or Iron Age date, along with the drip-gullies of two roundhouses.
Evidence for Roman activity was seen adjacent to the Covenham reservoir in the form of a number of large ditches containing high quantities of domestic refuse, including pottery, animal bone and oyster shell. An extensive Roman settlement was also uncovered to the immediate east of Yarburgh, made up of large boundary ditches, pits and beam slots, all of which contained pottery (including stamped samian and stamped mortaria), animal bone and abundant amounts of oyster shell.
A series of Roman ditches was also seen in trenches around the village of Swaby. Trenches running along the western edge of Brinkhill revealed evidence for three Roman settlements. Large boundary ditches and smaller ditched enclosures were recorded. A trench adjacent to the Roman road uncovered three sub-rectangular burnt pits containing cremated human bone and a large complete cremation vessel. The trenches at Brinkhill also revealed some evidence for Iron Age activity, including the drip gully from a large roundhouse.
Roman activity was also encountered to the south-west of Harrington, where a number of substantial ditches containing Roman pottery were uncovered. Further evidence of Roman activity was recorded to the north-east of the village of Sibsey where a single ditch containing samian and mortaria was uncovered. The eastern edge of Sibsey, either side of the railway line, also revealed dense Roman activity, a series of ditches contained pottery, fired clay and briquetage, potentially related to salt making.
A mix of Roman and medieval finds was recovered from trenches at the southernmost tip of the pipeline route, on the periphery of Boston. A small highly abraded sherd of samian was collected from a large probably post-medieval field boundary ditch, and several large sherds of medieval pottery were found in a small ditch also containing a charcoal dump.
Actions (login required)