Champness, Carl Godley Bridge Survey, Surrey. Archaeological Monitoring of Seismic Ground Testing. [Client Report] (Unpublished)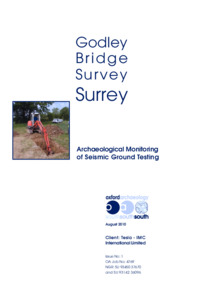 Preview
PDF




CHGOB10.pdfA.pdf


Download (12MB) | Preview
Abstract
On 26th May 2010 Oxford Archaeology undertook a field impact assessment of
geotechnical seismic survey investigations upon the potential archaeological
resource at two trial locations north-east of Haslemere, Surrey. The investigation
was undertaken in advance of, and to inform, a programme of geotechnical
prospecting within the surrounding landscape.
The survey utilised a 200g explosive charge buried 2 m deep into the underlying
sediments. Controlled archaeological excavation and sampling of the discharged
explosive at two locations established that these had a localised impact upon the
surrounding sediment and that this was unlikely to significantly affect any
archaeological remains. The explosive force created blast craters with diameters of
c 0.65 m surrounded by areas of sediment compaction. The localised outcrops of
ironstone found within the Weald Clay Formation were found to be resilient to the
impacts of the blast.
Actions (login required)